Heading into this year's NFL Draft, the Detroit Lions had the 3rd overall pick in the draft. Many fans were nervous, as the Lions usually disappoint lots of fans during the draft. This year on the other hand, Lions fans were very excited when GM Bob Quinn and HC Matt Patricia made some very bold and great picks for the future of the Lions franchise. Let's take a look at each pick and analyze/grade them.
RD 1 PICK 3 – Jeffery Okudah, CB, Ohio State
Grade: A-
Now don't get me wrong here, I really like this pick by the Lions. Even though this was expected, I'm still overjoyed we stuck with it and drafted Jeff. The last time a CB was taken in the top three in the NFL draft was back in 1997, so this was a very risky pick.
Jeff Okudah perfectly fits the Lions Man-Press scheme, which is always nice. His hip fluidity is a work of art along with his ability to stay right with receivers will translate really well into the NFL. Okudah also has insanely quick feet and a very long wingspan, which is very scary for any receiver going against him.
The only reason I don't give this an A is because I feel we could've traded with the Miami Dolphins to gain the 5th overall pick and another first rounder, as there was a very high chance he would still be on the board at number five. Overall though, A franchise changing pick and I hope he does well in his rookie year.
RD 2 PICK 35 – D'Andre Swift, RB, Georgia
Grade: A
I LOVE this pick. The Lions decided to be bold and select D'Andre Swift. Without a doubt D'Andre Swift is minimum a top 3 running back in this draft class. His elusiveness and ability to turn on the jets after getting past the front seven is jaw-dropping. Swift can make defenders look absolutely silly when he has the ball in his hand and can turn with such quickness the defender doesn't even realize he turned by the time he is past him. Another amazing thing Swift can do is make something out of nothing. A great example of this is any of his games versus Kentucky. He can find a hole and fly past the front seven and stride into the endzone.
There isn't many downsides to picking D'Andre Swift at this pick. The only thing that worries me is the amount of carries he had per game. He had 20+ carries in only three games in his junior season, which can be concerning because if he has a 35 carry game in the NFL, how will he be holding up? Will he be gassed? Overall though, I really like this pick and Swift is going to be an amazing running back no matter what.
RD 3 PICK 67 – Julian Okwara, EDGE, Notre Dame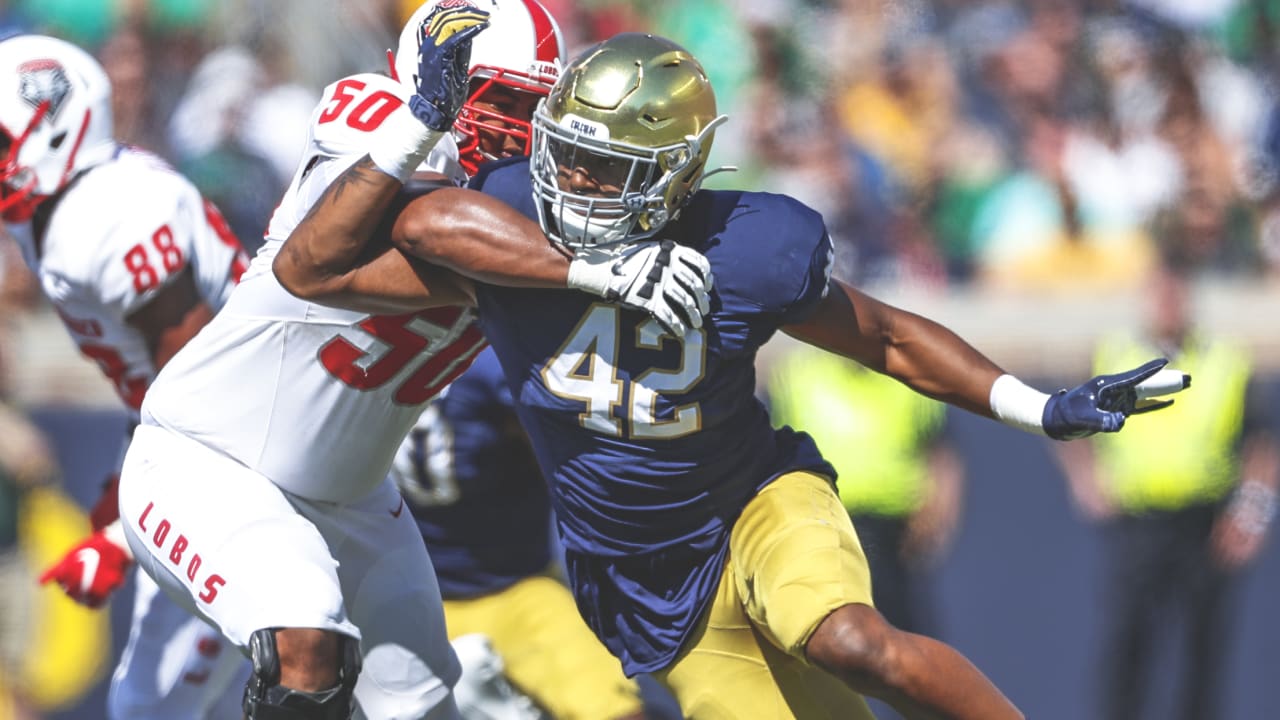 Grade: A-
Finally, the Lions secure an athletic edge rusher in Julian Okwara. Okwara had the 5th best pass rush win rate among the NCAA and has very long arms which he uses to help his speed and power. He is an absolute steal for the Lions in the third round. He is quick out of the stance that makes life tough on the opposing offensive lines. The dip and cross chop are his best moves and he has great success with those moves. If Okwara gets called on, he has no problem stepping up to the challenge. I feel like Okwara is going to be an absolute pain for opposing offensive linemen. I feel that having Julian playing with his brother Romeo will really help him ease his way into the NFL and help him get more comfortable quicker.
After watching some footage, I have managed to find a few things Julian can work on. One big thing is his pad level (how high the shoulders are.) I feel that his pad level is a bit too high, but this can obviously be worked on with NFL coaches. Another thing I've noticed is that he struggles on the run defense. He often gets beat to the gap and he needs to get stronger, but these things will come along as he grows in the NFL.
RD 3 PICK 75 – Jonah Jackson, OG, Ohio State
Grade: B
Jackson is advanced in pass pro as an interior lineman in this class. For his career, he's allowed only one lone sack or hit on 1,020 pass-blocking snaps, which speaks to arguably his greatest trait — not losing quickly. Even when he does allow pressure, Jackson is almost always still holding on for dear life and riding guys past the pocket. His hand usage is exceptional, and he plays with a balance unmatched in the draft class. BUT, Jackson was decent for Ohio State in 2019, although he had some penalty issues against Cincinnati. Jackson did not impress at the Senior Bowl and showed that he has very short arms. Even with all this being said, I still like the pick, and Jonah will beef up the OL for sure.
RD 4 PICK 121 – Logan Stenberg, IOL, Kentucky
Grade: B-
When I first saw the Lions select Logan, I was puzzled to say the least. But, after watching some of his clips and hearing him talk, I really like this pick. Logan Stenberg has that Detroit Grid type attitude and I'm all for it.
Logan is physical and a nasty mauler who will finish the block no matter what. He has a very thick, burly frame that matches his play style very well. He shows good anticipatory instincts with regards to handling stunts and games inside. He has a good short set anchor and does a good job holding the point. He's got vice grips for hands — if he's able to set the hook the odds of you getting out of the grasp are slim to none. He's fairly disciplined to not overextend himself or prematurely flash hands to set himself up for hand counters — which is vital since his lateral mobility hinders his recovery ability.
But, Logan has just as many downsides as upsides. Logan is very physical like I said, but that also means sometimes he can get to physical. Logan has a tendency of drawing a lot of flags. In the past year alone, Logan racked up 14 penalties in 2019. Logan also struggles with his foot speed along with his tall pass sets can give him some trouble via pass protection. Another thing is that Logan has only played LG in college, which means he will struggle if he is moved around the offensive line.
Even though Logan has a lot of work to do to get rid of penalties and other problems, the sky is the limit for this guy and I hope his Detroit style grit can get him as a solid OL for the Lions.
RD 5 PICK 166 – Quintez Cephus, WR, Wisconsin
Grade: C+
When the Lions selected Quintez Cephus with the 166th overall pick in the NFL Draft, Lion's fans were all over Bob Quinn and Matt Patricia on social media, enraged they passed on Michigan WR Donovan Peoples-Jones. People had a fair reason to do this. Donovan Peoples-Jones was my personal pick for this draft and I wanted DPJ just as bad as any other Lion's fan.
Quintez shows a good technique to clear press coverage with a variety of releases. He attacks blind spots and creates leverage as a route runner. I really like how he bends his routes stems, stacks, and creates throwing windows. Does a great job angling at the breakpoint to create separation. Won't get outmuscled at the catch point or pinned on vertical routes. Terrific body control, balance, and concentration.
Here's the catch with Quintez though, he ran a position slow 4.71 second 40 meter dash. He runs his routes very well but struggles to twitch and release quickly off the line to leave the receivers in the dust. Honestly, still not a fan of this pick and would've preferred DPJ
RD 5 PICK 172 – Jason Huntley, RB, New Mexico State
Grade: D
This pick was the worst pick the Lions made in this years draft. This pick left many fans sitting there scratching their heads.
Jason Huntley is a hard one to cover for most reporters because there's absolutely no information about him. One thing I've noticed for sure is this kid has some wheels. He flies past defenders like their nothing and will leave anyone and everyone in the dust. Huntley is also an amazing receiving back. I look at Huntley as a faster, overall higher potential Theo Riddick. Jason also is an AMAZING returner and his speed can help with that.
Jason really doesn't have any insane downsides like the other draft prospects on this list. I gave Jason such a harsh grade more because of the selection by the front office. The Lion's running back room is bursting at the seams, and adding another back really wasn't needed. Donovan Peoples-Jones was still on the board during this. I really don't understand why the Lions didn't go with a safety or a linebacker with this pick. Easily the worst pick by the Lions this draft, and I hope Jason can do well in the big leagues with the Lions.
RD 6 PICK 197 – John Penisini, DT, Utah
Grade: B
As a former rugby player, Penisini went the JUCO route for his first two seasons, and then transferred to Utah and finished as a second-team All-Pac-12 defensive tackle the last two years.
The redshirt senior only has five career sacks at the FBS level. Even with his size, he can struggle to push the pocket. His pass-rushing ability is not why the Lions drafted him, though. It's his run defense and his ability to control the line of scrimmage that makes Penisini unique. It's rare to ever see him get pushed around.
As a rotational piece, Penisini can likely play in multiple alignments along the line as two-down, run-stuffing type.
RD 7 PICK 235 – Jashon Cornell, DL, Ohio State
Grade: C-
Jashon is an athletic defensive lineman lacking core strength and body type for a clean positional fit in an odd- or even-front defense. His snap quickness and long lateral slides offer disruptive potential in a one-gapping front, but he's missing the size and consistency to handle himself against NFL power. Teams could decide to play him as a five-technique, but he needs to prove he has the playing strength to set a strong edge. His pass rush lacks explosiveness and skill to get quick wins, which could make his path to the pros more clouded.
Of course when you're drafting players in the seventh round, there's going to be a lot of players normal fans do not know. Still, I really don't get this pick. There as a lot of other talent we could've picked but we chose a very raw, slow, defensive end. An odd and questionable choice to the end of the 2020 NFL Draft for the Lions.