Over the last few years, runningbacks have gotten a bad rap in terms of their value. Many believe it's a waste to invest valuable assets and money into runningbacks as they're deemed "replaceable". Often when people say this they mean that you can get productive runningbacks in later rounds of the draft and that the productivity of runningbacks often relies on the performance of the offensive linemen, among other blockers., The second part of the argument is that you should spend higher-value draft picks on other, more impactful, positions. The risk for this, however, is that there is a talent drop-off as the draft goes on, obviously, and the longer one waits to fill the runningback position, the larger the risk is that you miss out on a game-changing talent. While I definitely think there is merit to this argument, and in a way sort of agree with it, I think drafting a runningback high in the draft has its place. The "conditions" to allowing oneself to draft a runningback in the first round, in my eyes, are that you have to be a contending football team with a well-established roster. More simply put, I believe you have to be a Super Bowl-caliber team with few "needs" to draft a first-round runningback. For this offseason, teams that come to mind are the Philadelphia Eagles, Buffalo Bills and Kansas City Chiefs; I believe these 3 teams could really benefit from a game-changer at runningback, and they have the luxury to spend the necessary capital to attempt to acquire one.
In the upcoming 2023 NFL Draft, there are two runningbacks that will be highly drafted that I believe could be game-changers at the next level. These two are Bijan Robinson, a runningback from Texas, and Jahmyr Gibbs from Alabama. They are each great in their own way, but the big question is, who is better?
To start off, I'll give a short summary report of each player before coming to a conclusion:
Bijan Robinson, Texas
Proj. Position: 3-Down Runningback
Unofficial Height: 6'0"
Unofficial Weight: 220
Proj. 40 Time: 4.48
Context:
Robinson was a 5-star recruit out of high school committing to Texas. Had a big role on the team from Day 1 as a Freshman, putting up great production each season. Played a variety of different roles in Texas' offense as the feature back.
Athletic Ability/Body Type:
Robinson has good height and weight with adequate arm length, and is filled out. He has great balance, great elusiveness, great agility, great explosiveness and solid acceleration, with a unique start/stop ability.
Projection:
Robinson is a starting runningback in a gap or outside zone run scheme. He should find a role in passing situations as a receiver. His blocking needs to improve a lot before he has a full 3 down role. He wins with his great athleticism, great strength, great finishing ability and great ability to create yards after contact, making defenders miss. He needs to improve consistency with his vision, and overall mental processing.
Jahmyr Gibbs, Alabama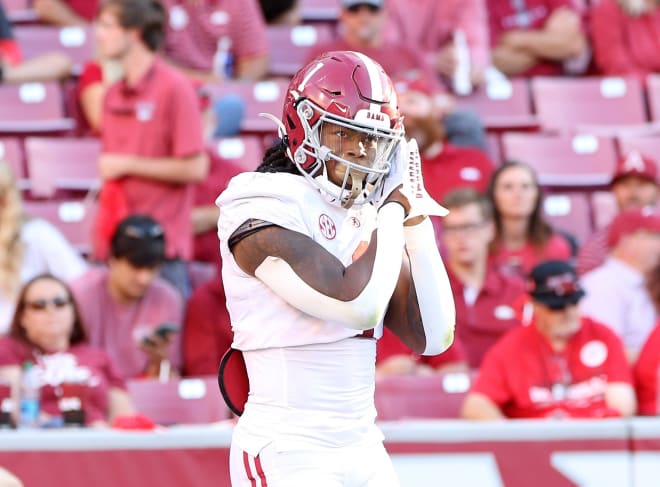 Proj. Position: 3-Down Runningback
Unofficial Height: 5'11"
Unofficial Weight: 200
Proj. 40 Time: 4.39
Context:
Gibbs was a 4-star recruit with offers from many top FBS schools, however, he ended up committing to Georgia Tech. Had 2 years of good production at GA Tech before entering the transfer portal as one of the top transfers, committing to Alabama. In his lone season at Bama, he established himself as the premier back in the offense, with a big role in both the run and passing game. Has experience on all downs at runningback, as well as splitting out wide and returning kicks. He had a few unspecified injuries that held him out as a freshman.
Athletic Ability/Body Type:
Gibbs has good height, with adequate weight, solid arm length and some room left to fill out his body. Has great explosiveness, great lateral quickness, great foot and long speed, and good agility, with a tendency to lose his balance and slip at times.
Projection:
Gibbs is a starting runningback capable of playing all 3 downs, with an emphasized role in the passing game. He best projects to an outside zone running scheme, and with an offense that can get creative with him in the passing game. He wins with his great vision, burst and speed to blow past the defense, and makes him a threat to run through arm tackles, and make people miss in the open field. Has a great ability to win in the passing game with good route running, catching ability and production after the catch. He's a smaller back that lacks ideal strength and doesn't project well as a pass blocker in NFL, nor as a guy who will win with contact balance and running through people.
Who do I think is better?
There are two ways I can answer this. I can give an answer based strictly on the film and who stood out to me more/graded out better for me. Or preferably, I could work around not giving a real answer and make a case for both of them. For this sake, I'll answer both, but I suggest prioritizing my second response.
Bijan Robinson ended up with a higher grade for me. This is strictly off of my confidence in the player independent of scheme fit, and how I project them to the NFL. Bijan Robinson received a grade of 6.80 for me. Conversely, Gibbs had a grade of 6.75 for me which tier-wise is a "Year 1 Starter" grade. In fact, their grades both fall into the same tier of "Year 1 Starter", and are both equal to a First Round Talent grade. So I guess the answer is Bijan Robinson in this case.
In actuality, I really am not comfortable saying that with certainty. Grading players without any sort of scheme or roster as a reference is a challenge. A player's fit in a team's scheme and roster certainly would affect their grade as a prospect, so with nothing to use as reference, it makes evaluation's harder, and makes comparing players solely off their grade in a way useless. Despite me being "higher" on Robinson, I think many teams would benefit from drafting Gibbs over Robinson, such as the Kansas City Chiefs who already have a talented back with a similar playstyle to Robinson in Isiah Pacheco; the Chiefs could also benefit a lot from a dynamic receiving back to add an extra wrinkle to their already loaded offense. Another team I believe would benefit more from Jahmyr Gibbs is the Philadelphia Eagles; the Eagles have one of the best Offensive Lines in all of the NFL, and their running game has been very successful due to this. They've gotten success from smaller backs who have great elusiveness (like Gibbs), and that seems to be their preference in play style for the position. I also believe adding an all-around weapon, like Gibbs, to that offense would open up pandora's box, and I wouldn't be sure how many defenses could shut them down if any. For Bijan Robinson, however, I think a team like the Buffalo Bills would benefit drafting him; the Bills already have James Cook who is quite similar to Jahmyr Gibbs, and the Bills are really missing a bruising back element to their offense that Robinson offers to take steam off of Josh Allen in the run game. Other teams like the Detroit Lions and Dallas Cowboys would benefit more from Robinson too for similar reasons; they have a Jahmyr Gibbs style back on their roster already, and they'd benefit more from a runningback that compliments that back rather than doubling up on that style. With all that being said, I guess you can say my answer is that I don't have an answer. Both are very talented players, and I like them both a lot as prospects. To me, picking one or another will depend on the state of a team's roster, and what scheme they run. I'm hoping both go to teams that'll get the most out of them because they're both truly dynamic and exciting players, and they're both capable of making great teams even better.