By: Jake Rosen
To put it short, very. This is one of the better CB classes we have seen in recent years, and to me, Surtain sets himself apart from the group. It is not at all a knock on any of the other CBs, rather it just shows how impressed I was with Surtain's tape. Surtain is one of the most technically sound CBs you'll see come out of school. He can do everything you ask in coverage, and his technique is great. To be honest, he set himself apart from some of the NFL CB's films I have studied.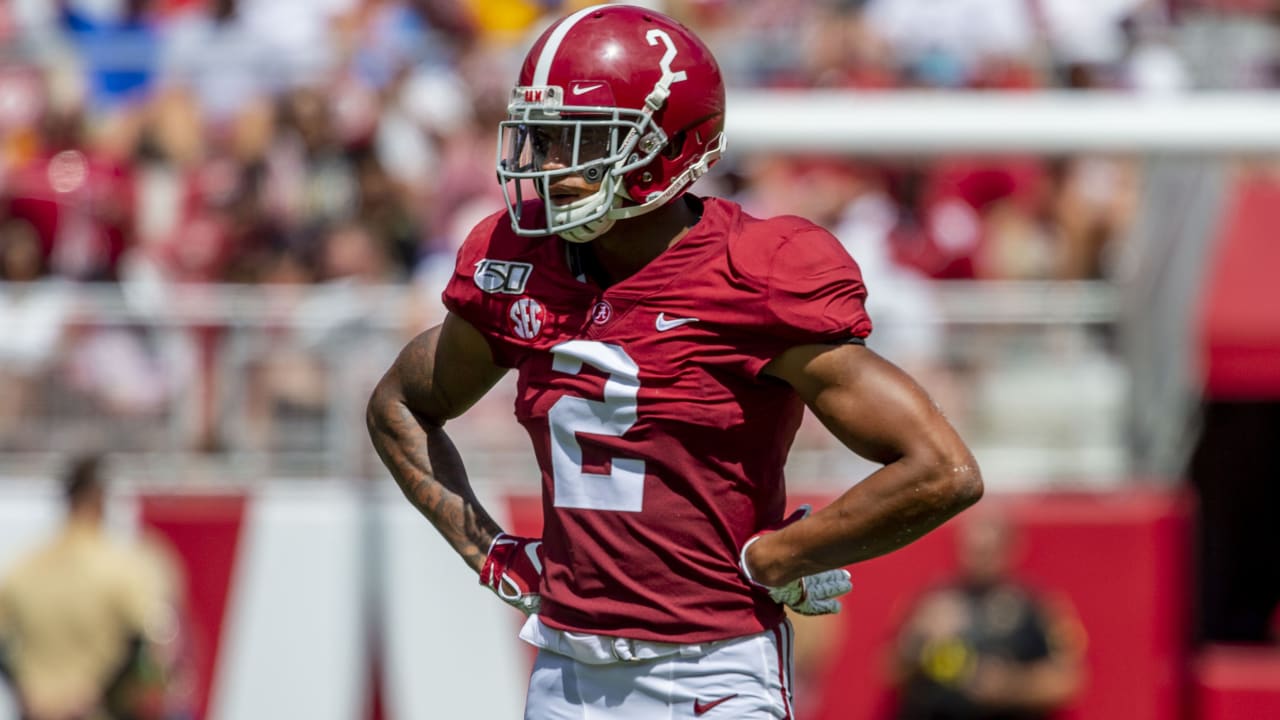 What I love about Surtain's Game:
There is a lot to love about Surtain's game. He has impressive size and length, measuring in at 6'2" and 203 pounds. He rose to the top of the pack at Alabama as a freshman, but I'm keen on the 3 traits he possesses the most. His Mental Processing, Man Coverage, and LOS Skills.
Mental Processing:
This is the trait that I believe goes under the radar by most of the public, a player's mental capabilities, in this case a DB. Mental Processing for a DB requires at least recognition of run vs. pass, diagnosing route concepts, reading run fits, and a strong overall Football Intelligence. There is more to it that not all DBs have. Surtain, however, can do more than just that. Surtain has truly impressive mental speed, you can tell he knows exactly what is happening within a second of the snap; he knows his own responsibility in coverage, he knows where the other receivers are on the field, he understands where his teammates are in coverage, he has an understanding of the QBs progressions, and many times, he knows the exact route his assignment is running. His combination of mental speed, with his ability to diagnose passing plays to its fullest is simply great.
Man Coverage:
Surtain matched up against all different types of receivers. He would line up against some of college football's top receivers, i.e Jamarr Chase, Chris Olave. As well as TEs. And he was as close to lockdown as you'll see in college football. There were times where he would get beat on deeper routes, however more often than not, he did a great job of mirroring both WRs, and TEs, staying on their hip the entire time, not allowing the QB to even think about throwing his way.
LOS Skills:
CBs with good LOS Skills are becoming more and more demanding in the NFL with the emergence of Press Heavy defensive schemes, and many of these great deep threat WRs taking over the NFL. Disrupting receivers' routes even just a little bit can throw off an entire play's timing, and ruin the entire offensive play. Surtain is a perfect player for this. I'm still waiting to see his official arm length, however, standing at 6'2", and with his ability to press, you'd figure it is greater than the 32" "cutoff" that some teams have for their Outside CBs. Surtain's ability to jam receivers initially, and disrupt the timing of their route is good, his ability to stay with them after, soft steering them, is even better. He stays physical in covering the entire route, he seems to always have at least an arm on a receiver's shoulder or hip. The other aspect of his pressing ability that stood out to me is his great read step; he can read a receiver's release in one step, and flip his hips in either direction immediately, setting himself up in a great position to play press man coverage.
Surtain is far from perfect, no player is, but the things he does well, he does really well, and not many other CBs can consistently do what he does.
There are concerns about Surtain's speed, and for good reason, he's not a blazer by any means, he probably is a 4.50-4.55 40 type of CB, which in today's game is considered slow. But, he plays much faster due to his great mental speed, he essentially has a head start every play because of this.
Here I'll share some of my write-ups for Surtain that I'd use in a scouting report. I noted his scheme fit, how I project him to translate to the NFL, and how I view his body/athletic ability.
Scheme Fit:
DC in a Press Man or Cover 3 scheme, that will utilize his great ability to play at the LOS, cover receivers in man coverage, and use his great mental processing in zone coverage.
Projection:
Great Starting DC, who is a solid athlete, with good play speed and great mental processing, allowing him to be an efficient Man and Zone CB. His ability at the LOS, as a jammer, flat foot reader and soft steerer is overall great, and allows him to thrive in press man. Great at bailing into Cover 3, allowing him to keep his eyes inside at receivers running vertical, and/or see other routes coming into his zone. QBs didn't test him often, however, he displayed a good ability to track balls coming his way, and break up the pass. Not an aggressive run defender, but when a play comes his way, he's a sure tackler, who will bring down both receivers and running backs.
Body Type/AA:
Great height, with good weight and seemingly good arm length with a slim build that he can fill out more. Has good acceleration, balance, solid quickness and foot speed, displays an adequate change of direction, hip fluidity and long speed.
Here I'll list my grades for Surtain at each trait I look at in a DB, so y'all can get a short and simple idea of what I see in Surtain's game.
Athletic Ability: 4 (Solid)
Play Speed: 5 (Good)
Competitive Toughness: 4 (Solid)
Mental Processing: 6 (Great)
Play Strength: 4 (Solid)
Man Coverage: 6 (Great)
Ball Skills: 5 (Good)
LOS Skills: 6 (Great)
Run Support: 3 (Adequate)
Open Field Tackling: 4 (Solid)
Conclusion:
Again, I'm a big fan of Surtain. I really believe in his game, and think he's perfectly valued as a potential Top 10 pick in the upcoming draft. I believe he's going to be a star CB in this league, even with the speed concerns, he is so good otherwise, I don't see a little lack of speed hurting his game. He should fit really well in the Giants scheme, Broncos and Cowboys would be great fits too. I could even see him go as high as 6 to the Eagles, and I would be all for that pick with how talented he is. Surtain definitely is a player I'm looking forward to seeing in the NFL, and truly believe we have an up-and-coming star at CB.