The offseason… A pivotal time for every franchise in the NFL. It presents an opportunity for every team– no matter their record the previous season- to better themselves for the upcoming campaign. Today, however, I'll only be looking at 4 of those teams, all of them residing within the AFC Eastern division. I'll be analyzing and grading the offseasons of the New England Patriots, New York Jets, Buffalo Bills, and Miami Dolphins.
New England Patriots
Grade: B-
Biggest Add: Chargers TE Hunter Henry
Biggest Loss: OG Joe Thuney
After their first absence from the postseason in 17 years, the Patriots had a lot of changes to make in order to get back into the playoffs. They started by completely retooling their receiving core, adding Raiders deep threat Nelson Agholor and 49ers weapon Kendrick Bourne to provide some help to lone bright spot Jakobi Meyers. The TE room also received a huge makeover trading away the disappointing Ryan Izzo and signing a pair of stud TEs in the LA Chargers Hunter Henry, and the Titans Jonnu Smith. They also managed to retain center David Andrews and made a big upgrade at RT by replacing veteran Marcus Cannon with familiar face Trent Brown. As for the offensive downsides, losing longtime pro-bowl guard Joe Thuney hurts-not as much as giving Cam Newton an extension that he didn't earn-but more on that later. On the defensive side of the ball, the Pats did improve their ailing pass rush, by adding Ravens EDGE Matt Judon, along with another familiar face in Hybrid Kyle Van Noy from the Dolphins, which is for sure a positive development. However, I wasn't a huge fan of the addition of Eagles safety Jalen Mills, and I think choosing to let go of IDL Adam Butler will have a bigger than anticipated impact. The Pats spent a lot of money in free agency, and while I think they definitely improved some of the weaker areas of their team, it could hurt them financially down the road if these signings don't live up to their contracts. We'll have to wait and see if these signings were worth the money they were assigned, but I feel that most of them will be looked back upon in a positive light.
In the draft, New England provided what i would label as a mixed bag. Among the picks I liked, were Alabama DL Christian Barmore, who was a steal in the 2nd round, EDGE rusher Ronnie Perkins who they also got at a great price in the late 3rd, as well as Michigan LB Cam Mcgrone in the 5th. Also, make sure to look out for 7th rounder Tre Nixon, who I believe could carve a role into this offense in the future. As for the picks I didn't like, I'll start with this: I am not a fan of Mac Jones. I just don't….get it. He's perfectly average in almost every category, which in a vacuum sounds good, but is he ever gonna exceed average? I don't see the top 10 upside in him, but I guess he has a pretty high floor? the verdict is still out, but I just don't love the player. And furthermore, if you're going to draft a high floor player like that, why keep incumbent starting QB, Cam Newton, around? He didn't play very well last season, and he's gonna take reps away from Mac. Normally, a situation like this is created to facilitate the development of a more raw prospect, which Jones is not. Extending Cam just didn't make a ton of sense to me, especially in tandem with the drafting of Jones. Secondly, I wasn't a huge fan of 4th rounder Rhamondre Stevenson, and I have trouble seeing him as a big contributor in a crowded running back room. All in all, I liked New England's draft overall, but the whole thing rests on whether Mac Jones can live up to his draft position.
Overall, I'm giving the Patriots a B- for their offseason activity. I liked some of their free agency signings but none of them really screamed, "Huge Impact," to me; they also spent a lot of money to bring those guys in. They added some great young talent in the draft, but it will all be overshadowed if Mac Jones can't develop into a more dynamic player at the NFL level which brings the grade down a bit due to my lower opinion on him.
New York Jets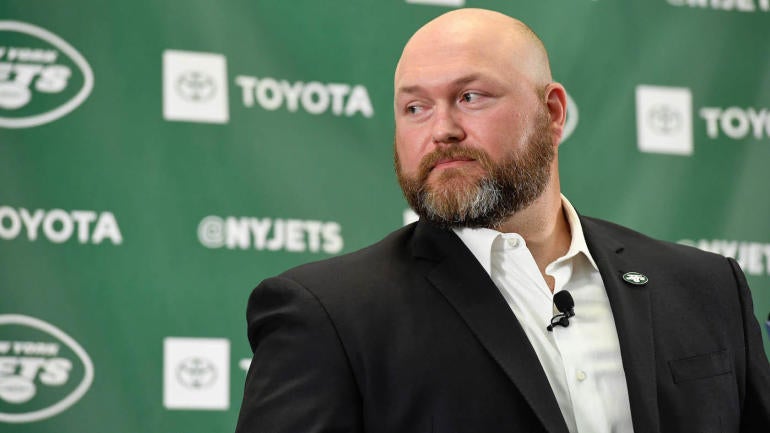 Grade: A
Biggest Add: Bengals EDGE Carl Lawson
Biggest Loss: LB Neville Hewitt?
The Jets had a TON of work to do this offseason following a 2-14 campaign that left them picking 2nd in the 2021 NFL draft. I'll talk about their draft, but we have to cover some other things first. The first thing is the hiring of new HC Robert Saleh, who I think we'll be an amazing hire. Saleh has a chance to turn the culture of this organization around, which is just what they needed, especially after the disaster that was the Adam Gase era. The Jets really had no impactful departures from their 2020 squad, which is typically the norm for a 2-14 team, but we should probably stop and talk about Sam Darnold. After showing promise in the 2019 season, Darnold showed huge signs of regression in 2020, arguably being outplayed by grizzled veteran Joe Flacco. Many believed the Jets should've stuck with Darnold for the upcoming season however, They ultimately decided to ship him to the Carolina Panthers. I'm of the opinion that this was a great trade for the Jets, and for Darnold. One gets solid draft compensation including a 2nd round pick in 2022, and one gets a chance at a fresh start in a new situation. This trade doesn't truly factor into their grade, as it's too early to tell how it will be looked back upon, but nevertheless, I figured I should address it. Back to the main point, however, I really enjoyed the way the Jets approached free agency. They found a solid high-floor runningback in Tevin Coleman and a potential number 1 receiver in Tennessee's Corey Davis. Some more underrated offensive pickups including Jaguars veteran WR Keelan Cole and Depth guard Dan Feeney could also be surprise performers. Most of the Jets' FA additions were on defense, however. EDGE rusher Carl Lawson may be one of the biggest signings of the offseason in my opinion. The Jets haven't had a premier EDGE rusher in a long time, and if Carl Lawson can provide that kind of presence, then he may be the talk of a very big town. The additions didn't stop there, however, as the Jets made what I believe was a very smart signing in Lions LB Jarrad Davis, who I think can have a career revival in a better defensive scheme. The additions of veterans Sheldon Rankins and Vinny Curry to an already talented defensive line should also pay off nicely. The Jets spent their money smartly and addressed most of their positions of need. The one thing that I'll criticize is the lack of attention towards the offensive line as they probably could've added a veteran guard like Trai Turner to their ailing unit.
As for their draft, I loved it. Zach Wilson was an awesome prospect to watch on film, and I think he has the potential to be a top 5 QB someday. If there wasn't a certain "Golden Boy" playing QB at Clemson last season, Zach probably would've gone #1 in the draft, so that pick automatically gets high marks from me. I also liked the decision to trade up for USC guard Alijah Vera-Tucker. The value was good, and I had AVT ranked as my best guard in the draft by a long shot, so that move also gets a gold star. Following their 1st round selections, the picks of Elijah Moore at the top of the 2nd, Michael Carter at the top of the 4th, and Hamsah Nasirildeen in the 6th also receive high grades from me. The only pick I didn't really love was Auburn safety Jamien Sherwood in the 5th round, as I don't think he'll be able to carve a consistent role in an NFL defense due to his lack of pure athleticism. However, I really liked the Jets draft in its entirety and I think they've formed a really fun and exciting young core.
For the 1st time in years, I can truly say that I have no major problems with the Jets offseason. Yeah they could've added an extra guard in free agency, and yeah they could've splurged on star players, but that isn't the identity that this team wants to take on under Robert Saleh. There's always a light at the end of the tunnel, and for this team, that tunnel has been a long one, but with an offseason like this, they may finally be close to reaching it. The Jets earned an A for their offseason, and I can't wait to see what they do to build on it further.
Buffalo Bills
Grade: B
Biggest Add: Rookie EDGE Greg Rousseau
Biggest Loss: WR John Brown
The Bills weren't overly active this offseason, which is to be expected from a team coming off a 12-4 season. But, nevertheless, they still made what I felt were solid moves towards remaining as the top dog in the division. The team decided to let go of wideout John Brown after two years with the team but immediately turned around to replace him with seasoned veteran Emmanuel Sanders. At this point in their careers this feels like a lateral move, however, Sanders adds the benefit of being more consistently healthy which is useful for a team with championship aspirations, so that was a good move. However, most of the Bills' other signings were a lot more under the radar due to the team's focus on extending most of the talent they already had. Seahawks TE Jacob Hollister could be a nice addition to a TE room that lacks an identity, as he has a history of playing with QB Josh Allen. Panthers EDGE Efe Obada was also an underrated pickup in my eyes, as he can contribute quite well as a situational pass rusher The team's biggest move was the extension of LB Matt Milano who should continue to lead one of the NFL's top Defenses. Despite a lack of cap space, the bills still managed to have a successful free agency period, due to savvy extensions, and more underrated signings that could go on to make a bigger than expected impact.
The Bills had an average draft in my opinion, though one of their picks does make me very excited. The fact that they were able to take Miami Hurricanes EDGE Greg Rousseau at the 30th overall pick is a shameful look for the rest of the NFL. I had Rousseau ranked as my number one EDGE prospect, and I think he'll be a star pass rusher at the next level although he needs to develop a little. However, the Bills can let him sit behind aging veteran Jerry Hughes until he's ready, so this is nearly a perfect spot for the 6'7″ freak of nature. High marks across the board for the Bills on this pick, as I think Rousseau can really take their defense to the next level. However, I wasn't all that excited about any of their other picks. NIU tackle Spencer Brown was good value in the 3rd round and I think he could be a starter eventually, but it wasn't really more than an average pick as I wasn't very high on Brown. Late-round players like Damar Hamlin and Jack Anderson could be impacts eventually, but I wouldn't bet on it due to their probable lack of playing time. However, I really disliked the selection of EDGE rusher Boogie Basham at the end of the 2nd round, for a couple of reasons. I didn't like the idea of doubling up on EDGE rushers with both high selections despite liking Basham as a prospect, and I think he'll struggle to find playing time among a bunch of other developmental prospects. It isn't a terrible pick, but it wasn't great. The Bills draft was fairly average, with one really good and one poor selection thrown in there, but maybe it will look more favorable with some time.
The Bills had a decent offseason, but it wasn't really anything special in my opinion. I think some of their free-agent additions like Emmanuel Sanders and Jacob Hollister can potentially make an already elite offense even better and maintaining many incumbent defensive pieces is never a bad decision but nothing they did was very exceptional. They should still be the favorites to win the division, but they had the most basic offseason out of all their rivals, landing them at a solid B.
Miami Dolphins
Grade: C
Biggest Add: Texans WR Will Fuller
Biggest Loss: QB Ryan Fitzpatrick
This is probably a hotter take of mine: I don't think the Dolphins had a very good offseason. Everywhere I look, I keep seeing endless praise heaped onto this team, and I just don't get it. Let's start with their biggest signing in former Texans weapon Will Fuller, and why I hate the scheme fit. 2nd year QB Tua Tagavailoa showed some promise in his rookie year, but one of the areas he struggled in was his deep ball. He has the talent to throw it, but he seems very reluctant to do so which now creates a problem with the addition of Will Fuller. Fuller is an excellent deep threat, but you're choosing to pair him with a guy who's reluctant to throw said deep ball, which is…interesting. Hopefully, Tua fixes this problem in year 2 but before we see it, it looks like a really weird decision. I can't fault the Dolphins for addressing a position of need, but I think there were many better scheme fits with a similar talent level to Fuller. The Dolphins continued to make strange outside of this one as well, like the decisions to cut LB Kyle Van Noy, and trade guard Ereck Flowers only one year after signing them to long-term deals. In Van Noy's case, it's because the Dolphins believe that Van Noy is replaceable, and replacing him saves them a decent amount of cash, but the Flowers decision is a puzzling one. He wasn't amazing last year, but he was an average guard that was a reliable starter, and they didn't even really try to replace him in the draft either. They replaced him with 2020 4th round selection Solomon Kindley, and while I liked him coming out, the decision still doesn't make a lot of sense. The Shaq Lawson trade was also weird, but the value was fair enough, so it doesn't affect the grade too much. The Dolphins pre-draft offseason was a confusing series of decisions that I was not a huge fan of, but I have enough faith in coach Brian Flores and GM Chris Grier to think that they have some kind of plan in place.
The Dolphins' draft was fairly short, with only six picks, but it was enough to form an opinion on. That opinion was…fine. Remember everything I said about the decision to sign Will Fuller in free agency? Apply all of that to the selection of Jaylen Waddle with the 6th overall pick. I really like Waddle as a prospect, so I won't slam the selection too hard, but once again, you run into the same problem as you did with Fuller: The deep ball. They have similar skill sets, so the problem you created earlier has now been multiplied. Again, I'm sure there's some kind of plan with these decisions, but before that plan is revealed, I have to criticize it. Maybe Tua has has overcome his reluctance to throw it long, but if he hasn't, this pick could look really bad in tandem with the Fuller signing; think Jaylen Waddle on the Raiders this year. Outside of that pick however, I was up and down on the rest of the draft. I was a big fan of Notre Dame OT Liam Eichenberg, so that pick gets a favorable grade from me. However I was a good bit lower on their earlier 2nd round pick Jevon Holland than most, as I think he'll have trouble finding a true position in the NFL, and is limited as a hybrid player, but the value wasn't terrible, so it was still an okay pick. 7th round pick Larnell Coleman out of UMASS was a huge sleeper for me, so that helps bring the grade up a bit as well. The guy is incredibly raw, but if he can shore up his technique, he has superstar potential. All in all, the Dolphins draft was merely okay, which is due to the varying quality of each selection. They had some good picks, and they had some bad picks, but at the end of the day, we'll just have to wait and see how they perform. I don't have very strong feelings on this draft so I'll deem it as "Okay".
The Dolphins earned a C for their offseason activity, and that grade would be a little lower if I didn't have faith in this front office. They picked strange players regarding their scheme and overall didn't improve as much as they could, considering they were on the cusp of a playoff berth last year. I trust that the Braintrust here has a plan and for that reason, this grade is prettier than it could've been, but it could get ugly with age.