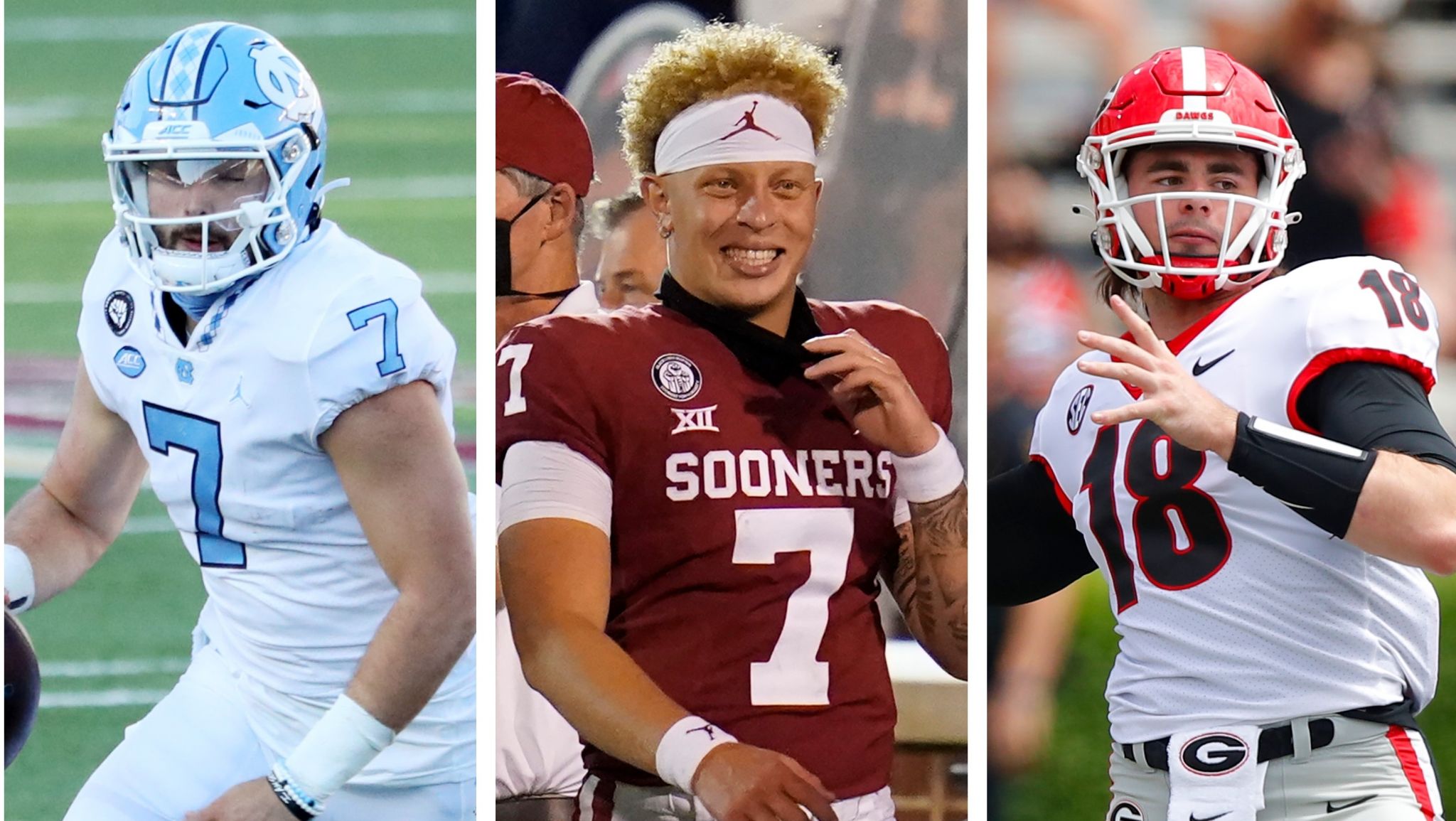 While the NFL season has yet to begin, many football fans and scouts are starting to focus on next year's batch of franchise signal-callers. In this article, I'll be ranking who I believe to be the class's 5 best prospects and giving some things I like and dislike about each of them.
1. J.T Daniels: UGA
J.T. Daniels is a very slept-on prospect. I don't really see a lot of the media pundits talking about him. He has incredibly solid mechanics, a good arm, and experience in the Shanahan system (Which won't go unnoticed by NFL scouts). He's basically a lesser version of 2021's 1st overall selection Trevor Lawrence. This isn't a negative – Lawrence was a generational talent rivaled by few. He's primed to have an excellent season at Georgia this year, surrounded by future NFL weapons like George Pickens, James Cook, and Arik Gilbert. If Daniels can get into the Heisman conversation, his stock could drastically rise and he could end up being the first QB off the board in 2022.
Pros:
. Strong Arm
. Experience in NFL style offense
. Above-Average Athleticism
Cons:
. Takes too many risks
. Slight injury concern
Pro Comp: Matthew Stafford
2. Sam Howell: UNC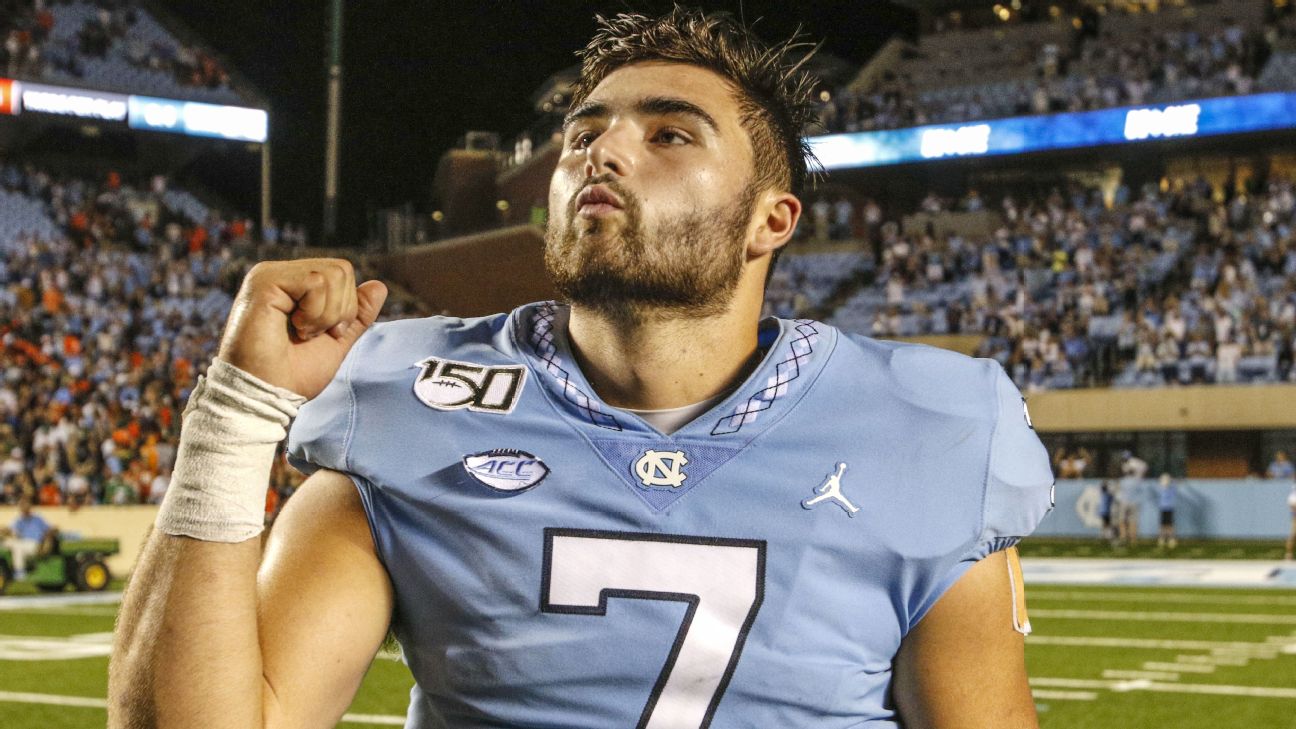 Howell has gotten plenty of coverage by the media already, and that's for good reason. He's a very high-floor prospect who can easily start day one in the NFL. He has an excellent processor, and understands the game on a near finite level, along with being a precision passer with a strong arm. His mechanics are a little sloppy, but it's nothing that an NFL coaching staff can't address; he also isn't really the greatest athlete in the world. He has an infectious personality that will very quickly catch on with a team's fanbase, which makes him easy to root for. He should be a lock for the top 10 barring a disaster of a season, so this ranking should probably hold up until April.
Pros:
. Veteran Level Processor
. Deadly Accurate
. Great under-pressure
Cons:
. Poor Athlete
. Jittery Footwork
. "System" QB
Pro Comp: Baker Mayfield
3. Carson Strong: Nevada*
While this spot in the rankings may come as a surprise, Strong is a prospect that I really like. He feels like he came out of a factory for QBs. What I mean by that, is that he's almost the perfect model for an NFL QB… In 1995. Great size, a strong arm, great throwing mechanics, what's not to like? Strong feels like a relic of a forgotten era, the prototype pocket passer. He's not very mobile, has poor footwork, and he relies on his arm too much, along with playing in a fairly basic system with the Wolfpack. It will take some work to get Strong up to speed with today's NFL, but if a team is willing to be patient, I believe their efforts will be repaid.
Pros:
. Great release
. Perfect build
. Strong Arm
Cons:
. Statue in the pocket
. Poor footwork
. Below-average processor
Pro Comp: Kirk Cousins
4. Malik Willis: Liberty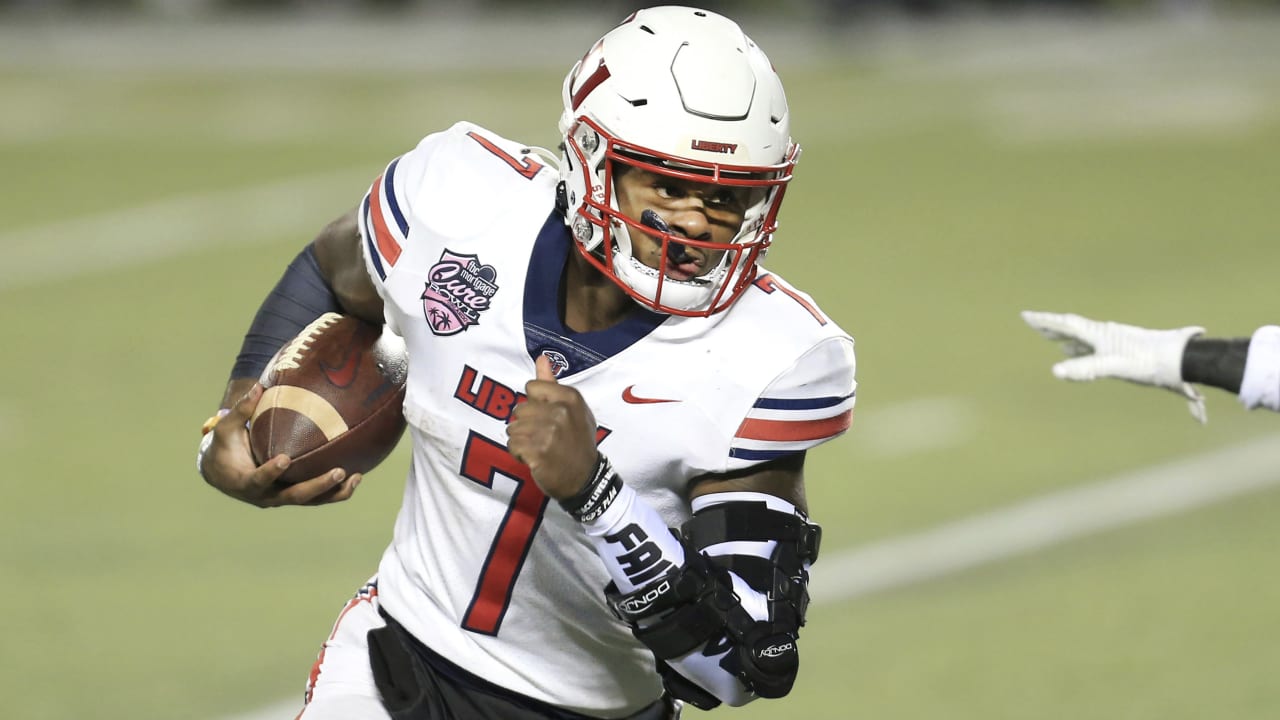 Willis is a very polarizing prospect, and I change the way I think about him almost daily. Willis is a true dual-threat QB. He can beat opponents through the air or on the ground, but not consistently, which raises a red flag. Willis shows flashes of brilliance on his tape, but that you'll see him make a terrible decision only a few plays later. He has a great arm and is fast as lightning, but his decision-making and awareness leave a lot to be desired. He often tries too hard to make plays when there's no avenue for them, leading to potential trouble for the offense. He also has trouble recognizing when a play is broken, which leads to him taking a lot of unnecessary hits that could get him hurt. Willis could be drafted in the 1st round for his physical abilities alone, but his stock could really take off if he showcases improvement in his processing this upcoming season.
Pros:
. Cannon Arm
. Dual-threat
. Good footwork
Cons:
. "Hero Ball"
. Sensing pressure
. Decision making
Pro Comp: Daunte Culpepper
5. Brock Purdy: Iowa St.
Purdy is a prospect that I was surprised didn't come out in last year's draft, but that may have been for the best. Purdy has been a longtime starter for a rising Iowa St. program and has had plenty of time to showcase his skill set, so we have a good feel for what he is at this point. He's solid all around, with no huge flaw in his game. He's a good athlete with a decent arm and a solid processor, but he doesn't have a ton of room to improve. His only concern of note is a janky throwing motion, but that's potentially fixable with the right coach. He's just a safe option for any team that's more ready to compete now. He's not a top ten pick, heck, he might not be a 1st rounder, but he's easily got the highest floor of any prospect who has come out in the last couple of years.
Pros:
. All-Around Solid
. High Floor
. Lots of experience
Cons:
. Low ceiling
. Awkward throwing motion
. Needs the right system
Pro Comp: Joe Flacco
I could continue and talk about some more prospects like Cincinnatti's Desmond Ridder, or Group of 5 standout Layne Hatcher, but we'll save that for another time. The 2022 NFL may still be a ways away, but it's never too early to start analyzing the collegiate field. These rankings will shift and change throughout the year until April, so nothing here should be taken all that seriously. It'll be fun to see how my opinions shift over time, and I look forward to revisiting them in the future.
The absence of Oklahoma QB Spencer Rattler is on purpose – it's incredibly hard to grade Rattler. The talent is obviously there and he could become a star QB in the NFL, it's just his character that has me concerned. He was suspended in his senior season of high school, and I'm sure everyone has seen his infamous moment on Netflix's QB1, and while it may sound silly to judge him squarely off of his character, it can be more important than meets the eye. Plenty of talented college QB's don't make it in the NFL because of off-the-field issues; Johnny Manziel, Ryan Mallet, and Geno Smith are names that come to mind. Rattler is more talented than all three of those guys, but it still raises some concern for me, so I'm reserving judgment on him. For posterity's sake, however, he would be in the third spot based purely on talent.