To start off a big day of trades throughout Major League Baseball, the Yankees acquired reliever Scott Effross from the Cubs in exchange for prospect Hayden Wesneski.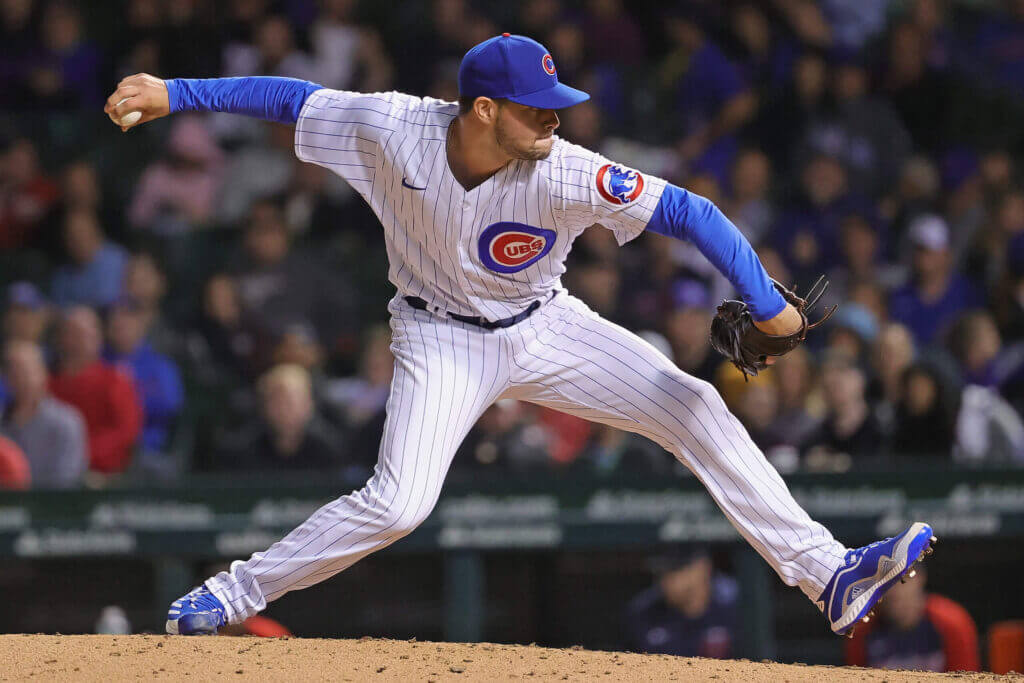 Effross, a 28-year-old rookie, has pitched brilliantly out of the bullpen this season to a 2.66 ERA, 2.21 xERA, 2.19 FIP, 2.95 xFIP, and 2.79 SIERA in 44.0 innings. Effross features a four-pitch mix with his slider, sinker, and four-seamer all having sub .200 batting averages and wOBA's against. Effross doesn't throw hard and his pitches don't have crazy spin rates, but opposing batters have had almost no success against him this season as they have an 87.0 average exit velocity (81st percentile), a 3.4 barrel% (95th percentile), and a .234 xwOBA (97th percentile).
What makes Effross so good is his command. Although he doesn't get many whiffs or swinging strikes, Effross' 20.9 CStr% is in the 95th percentile among qualified relievers which has helped him strike out batters at a very respectful 28.1% clip (73rd percentile among qualified relievers). Additionally, Effross does a great job limiting free passes as his 6.2 BB% ranks in the 77th percentile among qualified relievers.
Once Michael King went down with a season-ending elbow injury, the Yankees immediately knew they had to somehow replace his production; acquiring Effross for this season as well as having him under team control through the 2027 season does that and more.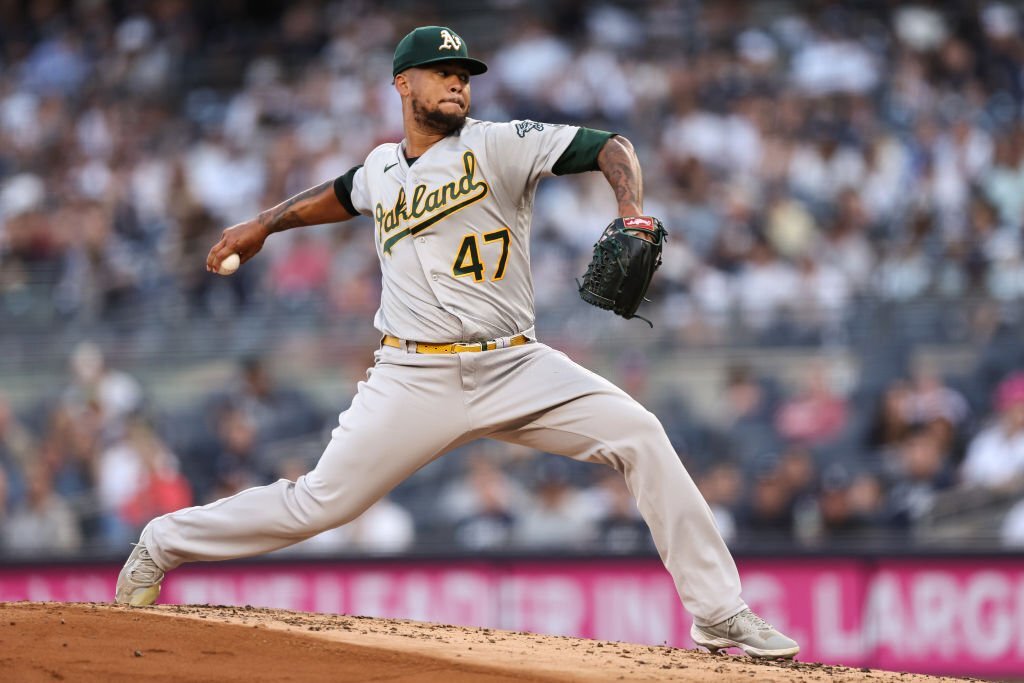 The biggest trade of the day was the Yankees acquiring Frankie Montas and Lou Trivino from the A's in exchange for Ken Waldichuk, Luis Medina, JP Sears, and Cooper Bowman.
The headliner of this trade is Montas who was easily one of the best players on the market before being dealt. Since the start of the 2021 season, Montas has a 3.30 ERA, 3.88 xERA, 3.37 FIP, 3.49 xFIP, 3.66 SIERA, and 6.1 fWAR (17th best out 86 starting pitchers to pitch at least 200 innings) in 291.2 innings pitched.
Montas features a five-pitch mix with his splitter, slider, and cutter having the most success this year. Montas isn't necessarily elite in any facets, but he does a lot of things well. Montas' stuff generates a healthy amount of swings and misses as his 25.8 K% ranks in the 78th percentile among qualified starting pitchers this year, his 12.8 SwStr% is in the 81st percentile among qualified starting pitchers, and his 33.2 chase% is in the 88th percentile among all pitchers. Although he has the second lowest CStr% among qualified starters, Montas only walks 6.6% of batters which is well above average.
While Montas' 46.1 GB% ranks in the 71st percentile among qualified starters this season, he is a bit susceptible to the home run ball as batters hit 1.03 HR/9. Additionally, Montas gets barreled often as his 8.4 barrel% is in the 24th percentile among qualified starters.
If the postseason started today, Montas would likely be the Yankees' game two starter. The Yankees didn't necessarily need to add a starting pitcher because of how good their staff has been, but Luis Severino was just transferred to the 60-day IL, Jameson Taillon has struggled recently, and Jordan Montgomery is more of a game four type starter than he is a game two starter. Adding Montas strengthens one of the already best starting rotations in baseball. Additionally, Montas has another year of team control for next season so he could be a vital piece of the next two potential World Series runs for the Yankees.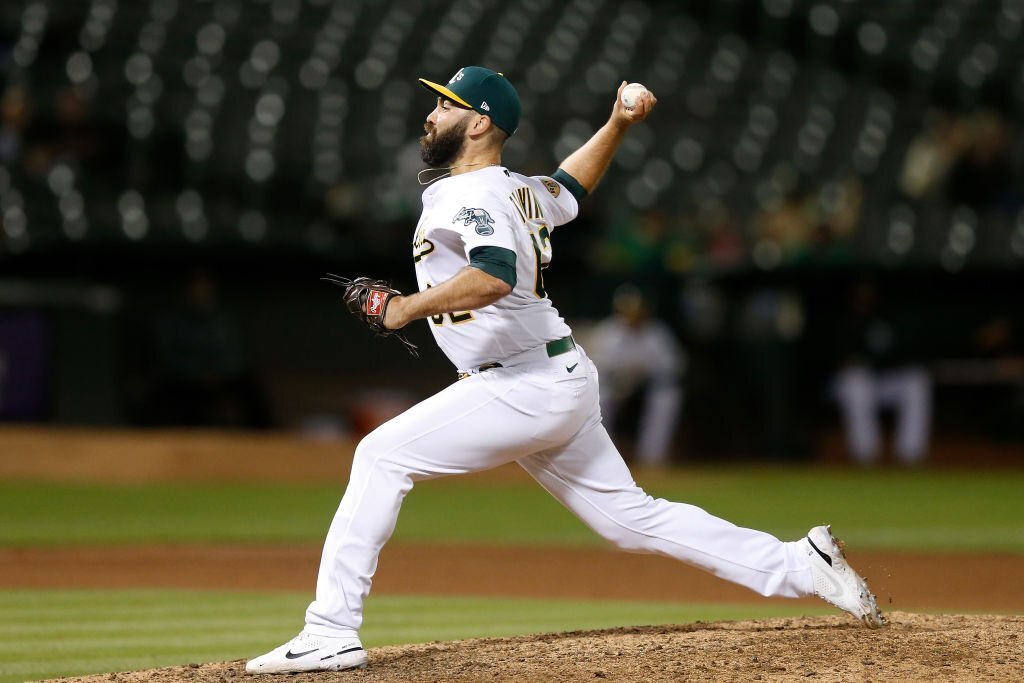 Although it looks like Lou Trivino is a throw-in in this trade, he could prove to be much more.
Trivino's 6.47 ERA this season isn't pretty, but there are many indications that this number is an inaccurate measure of his true skill set. Trevino's career ERA is 4.04 and he had a sub 4 ERA in three of his first four MLB seasons. Additionally, Trivino's peripheral stats indicate that positive regression should be coming as his 4.29 xERA, 3.84 FIP, 2.92 xFIP, and 2.89 SIERA are pretty impressive.
Part of the reason Trivino's peripherals are so good is that he does a great job missing bats and keeping the ball on the ground. Trevino's 28.7 K% ranks in the 84th percentile while his 53.2 GB% ranks in the 83rd percentile among relievers who have pitched at least 30 innings this season.
The main reason why Trivino's ERA is so high this season is that he has been plagued by the long ball. Trivino is giving up 1.41 dingers per nine innings and his 20.8 HR/FB% is well above his career average (11.9%) and the 2022 MLB average (10.8%). Once this number starts to stabilize, Trivino's ERA will likely skyrocket down.
It's also important to note that Yankees pitching coach Matt Blake has done a fantastic job with relievers, most notably Clay Holmes. Holmes had a similarly high ERA with great strikeout and groundball rates when he arrived in the Bronx last summer and has since become one of the best relievers in baseball. If Blake is able to work his magic on Trivino, the Yankees could have a dangerous new setup man come October.
I am a freshman studying broadcast and digital journalism at the Syracuse University Newhouse School of Public Communications and I'm from New York City. @mlbzone_ on Instagram