After weeks of speculation, the Nationals made the decision to trade Juan Soto. On July 16th Soto turned down a 15-year extension for a record-breaking $440 million. The idea that the Nationals would even entertain trading the face of their franchise before this news came out would've been absolutely ridiculous, but that all changed quickly. Even with Soto looking like a Hall of Fame lock at just 23 years old, the potential bad outweighed the potential greatness. With a bottom-tier farm system, a bad Major League roster outside of Soto, and the risk that they could've lost Soto for nothing if they held onto him without an extension; it made sense that the Nationals traded Soto.
Calling Juan Soto anything short of a generational talent is egregious. If you could build an offensive player in a video game, you would try to build a Juan Soto archetype.
Although his .246 batting average this season isn't very impressive — and a poor surrounding lineup this season hasn't done him any favors –, he is a .291 hitter for his career.
In addition to his typically high average, Soto is one of the best players at getting on base as his .427 OBP since debuting in 2018 (among qualified players) is the second best in Major League Baseball behind only Mike Trout's .429 clip.
Soto is also a great power hitter as his .538 SLG since debuting is the ninth best in MLB (among qualified players) and he has shown he's easily capable of being a perennial 30+ homer guy year in and year out.
It doesn't stop there. When Soto puts the ball in play, he hits the ball extremely well. Excluding his rookie campaign in 2018, Juan Soto's xwOBA has not been lower than the 97th percentile, his average exit velocity has been in at least the 90th percentile in three out of four seasons (77th percentile this season), and his barrel% has never been lower than the 83rd percentile.
The best part of Soto's game is his godly plate discipline. Soto's chase rate has never been below the 93rd percentile, his K% has rapidly improved to be around the 90th percentile over the last three seasons, and his BB% has never been below the 98th percentile.
Despite a career year from Jurickson Profar, the Padres have received almost no offensive production from their outfielders this year. Profar's 122 wRC+ is very good, but Nomar Mazara (98 wRC+), Trent Grisham (84 wRC+), Jose Azocar (71 wRC+), and Wil Myers (68 wRC+) have all been below-average offensive options. By adding Juan Soto to their outfield, the Padres have all of a sudden gone from one of the worst hitting outfields to among the best. The Padres are guaranteed to have Soto for their next three postseason runs and potentially more if they can sign him to what figures to be the most lucrative contract in MLB history.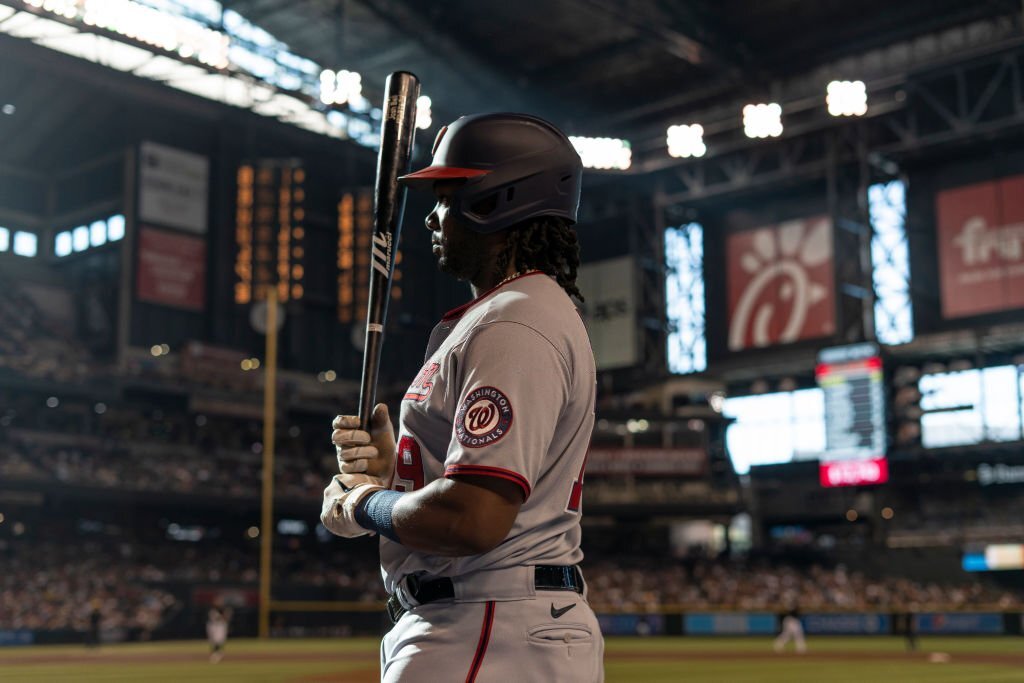 The other big bat the Padres acquired is Josh Bell. Bell has been one of the best first basemen in Major League Baseball this season and is arguably having the best season of his career. Here's how Bell's 2022 season has compared to 2021 AL MVP runner-up Vladimir Guerro Jr.'s:
| | | | | | | | |
| --- | --- | --- | --- | --- | --- | --- | --- |
| Player | G | AVG | OBP | SLG | HR | wOBA | wRC+ |
| Josh Bell | 103 | .301 | .384 | .493 | 14 | .376 | 142 |
| Vladimir Guerrero Jr. | 101 | .283 | .359 | .499 | 21 | .368 | 138 |
Bell is a switch hitter without much of a drop-off in production when he changes the batter's box he steps in as his 132 wRC+ as a righty is only slightly worse than his 148 wRC+ as a lefty. Bell is an upgrade over both Eric Hosmer and Luke Voit who oddly enough both had extreme reverse splits and he should help a Padres team that has been slightly below average against righties and lefties improve drastically.
The new look Padres lineup with Soto, Bell, Brandon Drury, and a healthy Fernando Tatis Jr. looks like a pitcher's worst nightmare:
| | |
| --- | --- |
| 1. | Jurickson Profar LF |
| 2. | Juan Soto RF |
| 3. | Fernando Tatis Jr. SS |
| 4. | Manny Machado 3B |
| 5. | Josh Bell 1B |
| 6. | Brandon Drury DH |
| 7. | Jake Cronenworth 2B |
| 8. | Austin Nola C |
| 9. | Trent Grisham CF |
In return for Soto and Bell, the Nationals received a haul.
The two high-level prospects that have already made their Major League debuts that are headed to Washington are C.J. Abrams and MacKenzie Gore.
Abrams was the top prospect in the Padres farm system and was regarded as a top overall prospect in the game entering the 2022 season, but he has struggled in his first Major League action. Abrams' offensive game was heavily BABIP dependent in the Minors which is a bit concerning considering his lack of power and unimpressive walk rates. If Abrams doesn't have high success rates on balls in play, Abrams could really struggle at the Major League level. This has been apparent so far in his Major League stint as his BABIP is a low .276, his BB% is 2.9, his ISO is .088, and his wRC+ is 75. Abrams is clearly talented, but he still has a ways to go before becoming a solid player at the Major League level.
Ever since he was drafted with the third overall pick in the 2017 draft, MacKenzie Gore has been regarded among the elite prospects in baseball – even becoming a top-five overall prospect in 2019 and 2020. Gore made his Major League debut in 2022 and has so far pitched to a 4.50 ERA, 5.17 xERA, 4.11 FIP, 4.42 xFIP, and 4.43 SIERA. Gore has had some problems with his command as his 12.0 BB% is in the seventh percentile in addition to getting lit up on balls in play. The Padres had recently shut Gore down until September with an elbow injury, so that's definitely something to monitor going forward.
The other prospects heading the Nationals' way are Robert Hassell III, James Wood, and Jarlin Susana. Hassell slides in as the Nationals' third best prospect, Wood fourth, and Susana 10th via FanGraphs. Additionally, Hassell and Wood are both regarded as top 100 prospects at 41st and 66th respectively. Hassell was selected with the eighth overall pick in the 2020 MLB draft and has performed well since. In 75 games with the Padres A+ affiliate, Hassell hit .299/.379/.467 (134 wRC+) with 20 stolen bases and an impressive 11.0 BB%. Wood was selected in the second round of the 2021 draft, but his rare combination of size, speed, and raw power has quickly moved his name up prospect rankings. The 6'7″ 240-pound outfielder has hit an impressive .337/.453/.601 (171 wRC+) with 15 stolen bases and an also impressive 15.7 BB% in 50 games with the Padres A affiliate. Susana made his professional debut this season and has flashed great potential. In 29.1 innings with the Padres CPX affiliate, Susana has a 2.45 ERA, a 39.6 K%, and 55.8 GB%, At just 18 years old, Susana could quickly rise up the ranks in the Nationals' farm system.
The last player the Nationals acquired is Luke Voit. Voit hit .225/.317/.416 (109 wRC+) in 82 games with the Padres this season and is under team control through the 2024 season. Voit doesn't appear to fit in with the Nationals' timeline, so I wouldn't be surprised to see him traded in the offseason.
Grades:
Padres: A+ Nationals: C+
I am a freshman studying broadcast and digital journalism at the Syracuse University Newhouse School of Public Communications and I'm from New York City. @mlbzone_ on Instagram