The Jets have started the NFL season with a record of 0-3 for the second consecutive year. A combination of poor coaching and a lack of depth due to injuries have caused the Jets to be considered as the worst team in the league.
Is it Adam Gase's fault?
A majority of the fans think so. With just one look at the comments section of any Jets social media post, you will find at least twenty variations of the phrase "Fire Gase." The playcalls have arguably been not good. The Jets rank worst in the league in a plethora of offensive stats. Sam Darnold is clearly regressing. His team is currently a laughingstock.
However, to play the devil's advocate, his team is banged up. His starting WRs are currently Chris Hogan and Lawrence Cager (though Joe Douglas found a diamond in the rough with Braxton Berrios). Darnold is handing the ball off to Frank Gore and Chris Herndon's seemingly forgotten how to catch a ball.
That's the only excuse he can make. Other than deflecting the blame to Sam Darnold, there's quite nothing else that he can say for his team's lack of success. At the end of the day, everything hinges on Gase. Whether or not he takes accountability for the team's shortcomings is only a judgement of his character.
It's rumored that Jets owner Christopher Johnson has made initial preparations to dismiss Gase. Fox Sports' Colin Cowherd reports that if the Jets lose Thursday against an 0-3 Denver Broncos team fielding Brett Rypien as their quarterback, Gase will be fired. It is unclear who the interim will be in this scenario. ESPN's Chris Mortensen corroborates that, writing that the Jets will be keeping a watchful eye on Adam Gase.
Is Gase scared of losing his job? When asked about job security, he brushed off the question.
"I'll do what i always do," Gase said. "[I'll] come back to work and try to get it fixed."
Will the Jets continue losing under an interim head coach? The future holds the answer to that question. Will Sam Darnold remain the savior, or will he be tossed out on the street? We don't know.
With that being said, here are five coaching candidates to look at after the season ends.
1. Arthur Smith
'King Arthur,' as Jet X's Michael Nania has dubbed him, is currently the Titans' offensive coordinator. Smith is known for keeping his foot on the gas pedal. After Ryan Tannehill replaced Marcus Mariota for the Titans in 2019's week 7, the Titans scored a touchdown on 34.5% of their offensive possessions (second only to the Baltimore Ravens). Tannehill (an ex-Gase QB) went from an average quarterback to a bonafide superstar, averaging 9.6 yards per attempt (NFL-leading) and a 117.5 quarterback rating (also NFL-leading).
The Jets currently rank last in second-and-long pass rate. This means that in scenarios such as second & 10, they are incredibly likely to run. The Seahawks, who have an incredible offense spurred by Russell Wilson, rank the second-highest. The Seahawks are 3-0 despite having a horrific defense. While some of this can be attributed to having the second-best quarterback in the league, they aren't afraid to throw the ball. The Titans rank somewhere in the middle of the pack, but they also have a top-five running back in Derrick Henry.
Smith originated as a TE Coach, meaning that he'll have a use for Chris Herndon's untapped potential, something that Gase has yet to fully figure out.
Smith's usage of play action and pre-snap motion are things that really benefited Ryan Tannehill. He takes shots downfield, keeps it simple, and establishes a run game.
Smith is a leader. He's coached on both sides of the ball. The following is an excerpt from Jet X's Ben Blessington:
Sam Darnold needs to regain his confidence – why not try a real offensive-minded head coach to fully tap into his potential? Or, if you're on the Trevor Lawrence train, why not give Lawrence someone to be a mentor and a real leader for a struggling, rebuilding New York Jets team?
The only negatives I could find on Smith was one instance in which Smith yelled at an injured AJ Brown to play better (for which he apologized).
King Arthur will take Darnold/Lawrence to the next level. King Arthur will utilize the weapons that the Jets have, adapt to situations, and turn the Jets into a powerhouse like that of the Rams and 49ers (hopefully).
2. Eric Bieniemy
Bieniemy has been a fan-favorite for Jets head coach dating back to the termination of Todd Bowles. The Chiefs offensive coordinator has been quite the mentor for the league's top quarterback. He's the leader of the Chiefs' electric offense. While he doesn't call the plays (that's solely Andy Reid's duty), he's communicating with Mahomes before the snap.
Bieniemy started his football journey as a running back. He spent four seasons with the Chargers, four with the Bengals, and one with the Eagles. The Colorado alum was selected with the 39th pick in the 1991 NFL draft.
After his career ended, Bieniemy took a job as the running backs coach for the Buffs. He progressed through the ranks and eventually became the Colorado offensive coordinator in 2011.
In two seasons, Bieniemy's Buffaloes went 4-21. They averaged around 300 yards of offense per game, however.
The Jets requested to interview Bieniemy last year, but did not hire him.
3. Greg Roman
Roman is the architect of the Ravens' offense. The 48-year old is entering his second season as offensive coordinator with the Ravens, but he's already made quite an impact. His scheme has produced a Michael Vick-type of player in Lamar Jackson, and the offense is quite efficient.
Roman built his entire offensive scheme around Lamar Jackson. Lamar then won MVP.
Pretty self-explanatory. Giving Roman Trevor Lawrence could be deadly.
He's coached Tyrod Taylor, Alex Smith, Colin Kaepernick, and Jackson. All have had their best statistical years with Roman.
4. Brant Boyer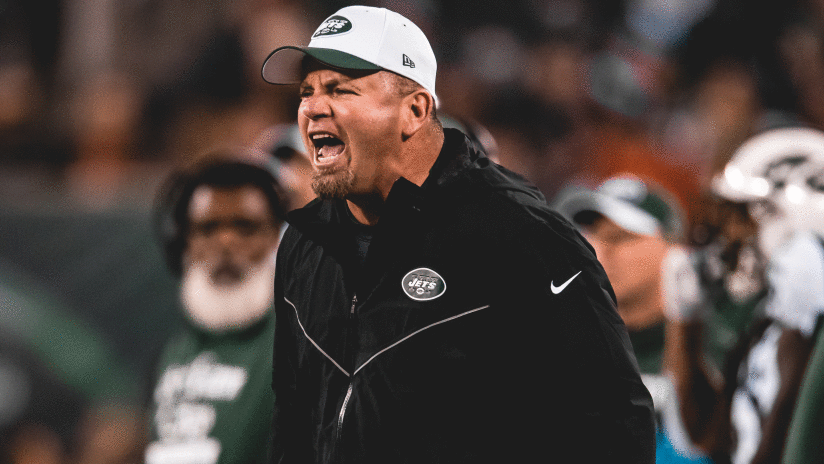 Should the Jets choose to stay in-house for their replacement, there is quite possibly no one more equipped for the head coaching vacancy than Brant Boyer.
The former linebacker spent ten years in the NFL with the Dolphins, Jaguars, and Browns.
In four seasons with the Jets, Boyer turned a bottom-five special teams unit into one of the top units of the NFL. He's done this with a different primary player at kick returner, punt returner and kicker, as well as a different leading special teams tackler in each of his four seasons as coordinator.
The 49-year old is well respected throughout the locker room. He's a no-nonsense coach. If the Jets choose to fire Gase midseason, Boyer's a lock for the interim job. If his team performs well, why not allow Boyer to keep on keeping on?
5. Nate Eberflus
Should the Jets choose to hire a defensive-minded HC, Eberflus is the best man for the job.
Eberflus was hired in 2018 by then-Colts HC Josh McDaniels to be the Colts' defensive coordinator. When McDaniels backed out of his commitment with Indianapolis, Eberflus chose to stay.
Eberflus has turned a 30th-ranked defense into a powerhouse. They have ranked 10th, 18th, and 8th in points allowed since Eberflus joined the team.
Eberflus, 50, has had a life riddled with football. He was a four-year letterman and a three-year starting linebacker at Toledo under Nick Saban. In 1992, he joined the Toledo coaching staff as a student assistant. He spent nine years there, eventually becoming the defensive backs coach before moving to Missouri as a defensive coordinator in 2001. After seven years with the Wildcats, Eberflus was hired by the Browns to be a linebacker coach. He then spent 2011-2016 as the Cowboys' linebackers coach as well as the defensive passing game coordinator in 2016 and 2017.
His 28 years of experience will be a valuable tool for a head coaching job.