On March 16th, the New York Giants made headlines when they signed Blake Martinez to a 3 year, $30,000,000 contract. But was Martinez really worth it? The short answer is no. Martinez, 26, had previously started at MLB for the Green Bay Packers after they drafted him with the 131st pick (4th round) in the 2016 NFL Draft. In his four years with the Packers, Martinez piled up some seemingly impressive stats: 512 tackles (332 solo), 29 TFLs (tackles for loss), 10 sacks, 17 passes defended, 3 interceptions, 2 forced fumbles, and 2 fumble recoveries (Stats via ESPN and Pro Football Reference). And while tackles are great, these are surface-level statistics that do not show just how bad Martinez is. Opposing offenses specifically targeted him because they knew he was the weak spot of the Packers defense and a liability on most plays. Now, let's dive in to unmask Martinez's true ability (or lack thereof).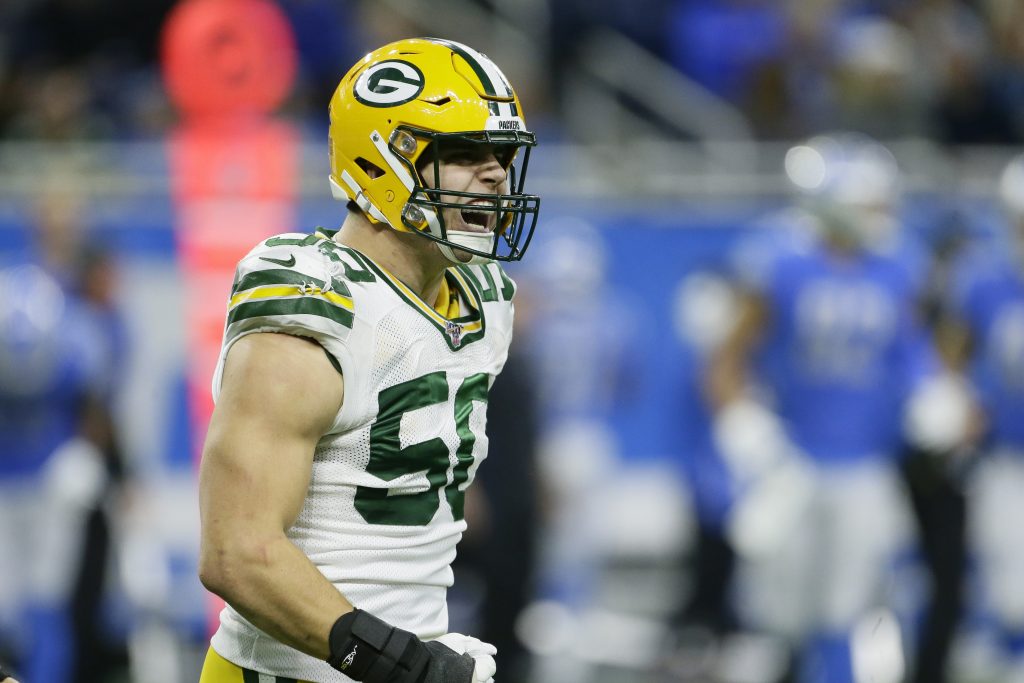 People are often fooled into thinking that Blake Martinez is a good NFL linebacker by his gaudy tackle numbers. In 2017, Martinez (and Joe Schobert and Preston Brown) led all NFL players in tackles with 144. Last year, he was second in the NFL in tackles with 155. Sure, these numbers seem great, but Martinez isn't all that great of a tackler. According to Pro Football Reference, Martinez missed 10.4% of his tackle attempts last year. When you compare this to some elite NFL linebackers, you see just how bad this is. Cory Littleton missed just 3.6%, Bobby Wagner 5.9%, Luke Kuechly 6.5%, Jaylon Smith 7.8%, and Jordan Hicks missed 10.7%. Those who maintain that Martinez is a good player often say he's a great tackler, but, as you can see, this is simply not true.
Another myth told by Martinez truthers is that he is a good run stopper. Pro Football Focus (PFF) gives Martinez a 47.0 run defense grade, which is downright awful. This grade didn't even rank among the top 50 qualified linebackers (the lowest grade on the list was 63.3) and was far from it. Martinez often seems lost on run plays, struggling to fill the correct gaps and lacking the athleticism to get to runningbacks before they reach the second level.
Martinez also struggles in pass coverage. PFF gives him a 64.2 coverage grade, which ranks 61st among qualified linebackers. Opposing defenses targeted him on purpose, knowing that they would be able to march down the field if they threw his way. He was targeted 74 times in coverage last year (6th most among LBs). On these 74 targets, Martinez allowed a whopping 62 completions, which meant opposing QBs were able to complete 83.8% of their passes when targeting him. He allowed 570 yards in coverage (339 after the catch), which amounted to 15.3% of the total passing yards allowed by the Packers last season.
Martinez is most skilled when used as a pass rusher in a blitz. According to data from Pro Football Reference, he had a pressure rate of 14.3% when rushing the passer last year. For comparison, T.J. Watt had a pressure rate of 11.6%, and Aaron Donald had a pressure rate of 9.6%. Obviously Martinez rushes the passer much less, and the majority of the time he does is on designed blitzes, but this shows his strength as a rusher nonetheless. Additionally, PFF gives him a pass-rush grade of 78.4, which is pretty good, especially for a linebacker. This grade ranks 15th among all linebackers, which further shows that pass rushing is one of his strengths.
Blake Martinez is not a horrible player, but he certainly isn't a star. His overall PFF grade of 58.9 ranks 53rd among qualified linebackers, meaning that he would be a solid backup on a contending team. He is said to be a great locker room presence and he has 4 years of experience starting as well as playoff experience, which are all great traits for a backup on a contending team. This most certainly does not justify a 3 year, $30,000,000 contract, especially from a bottom 5 team in the NFL that has no talent on the roster at linebacker and could've added someone like Cory Littleton for just a little bit more per year or Nick Kwiatowski for considerably less. But, since the Giants did sign Martinez, they would be better off benching him and seeing what some of the young guys on the roster can do. The salary cap is expected to shrink because of Covid-19 and Martinez could be a casualty after this season.
This is not meant to bash Blake Martinez. By all accounts, he is a great person and was obviously good enough to start in the NFL for four years. This is actually meant to target Dave Gettleman and anyone else working for the Giants that thought it would be a good idea to sign Martinez. This is one of many terrible moves made by the Gettleman regime and hopefully, if the team struggles again, he is no longer with the team after the 2020 season.
Stats Via:
https://www.pro-football-reference.com/players/M/MartBl01.htm#all_detailed_defense
https://www.espn.com/nfl/stats/_/season/2019/seasontype/2
https://www.espn.com/nfl/stats/team/_/view/defense/table/passing/sort/netPassingYards/dir/desc
https://www.pro-football-reference.com/years/2019/defense_advanced.htm