by Zuha Islam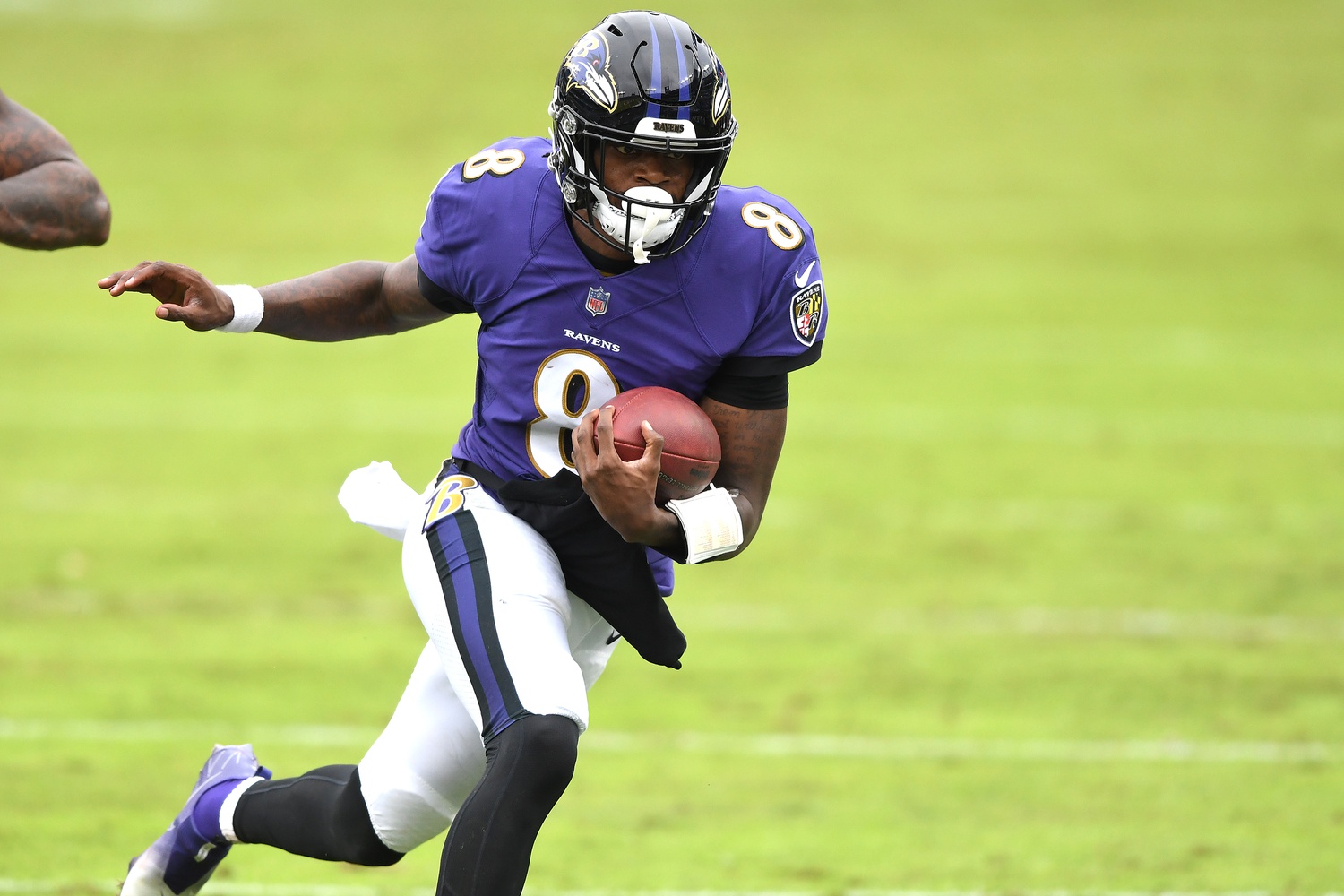 If you've watched the Ravens at any point this season, or if you've listened to analysts talking about Lamar Jackson or the Ravens, you would know by now that he is not playing at the MVP level he was in 2019. To an extent, this is true. However, it seems as if much of the media is attempting to paint a narrative that Lamar Jackson cannot win big games and further say that he has been figured out, and will follow a similar career path to Patriots quarterback Cam Newton after 2015. In this article, I will analyze both the ups and downs of Jackson's 2020 season with facts and not narratives.
When you compare Jackson's 2019 season to his 2020 season, the first thing you have to look at is their supporting casts. While the 2020 Ravens have been impacted with injuries more than the 2019 Ravens, the supporting casts are at about the same level. In fact, the argument could be made that Jackson's weapons in 2020 are better than his from 2019. However, the offensive line play this season has been much worse compared to 2019, so it almost evens out. Also, while the Ravens defense has beefed up upfront, it has been struck by injuries and COVID-19.
The next thing you have to factor in is how Jackson has been playing as a pure passer. As we all know, Jackson is generationally athletic and one of the best rushing QBs in NFL history, if not the best. However, his passing ability is what can separate him from being an average QB to an elite one.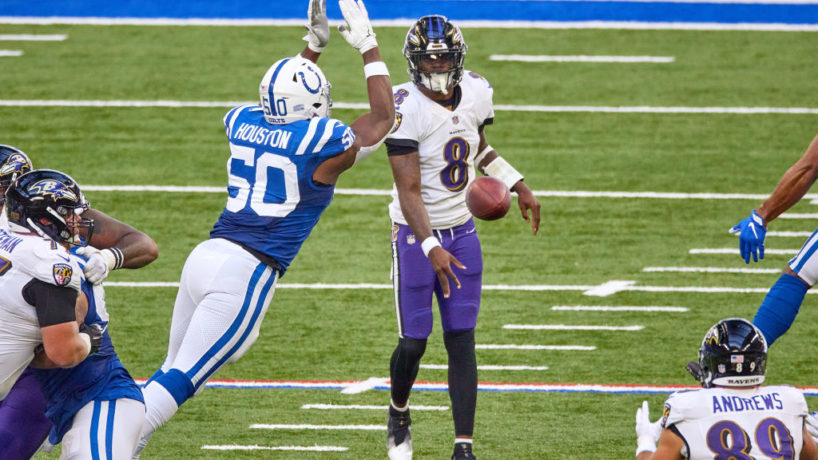 Jackson's passer ratings look great both seasons, as he has a 95.1 passer rating this year and 113.3 passer rating the year before. However, due to the run heavy Ravens offense, his pass attempts are limited, and his ability to run opens up opportunities in the passing game. Due to this, his stats can look a little better as he will have a higher TD% compared to other QBs. However, this should not be completely discredited, as that's the benefit of his running, and in the NFL, that has proven to be enough to win him games. Looking at his other stats, Jackson over the past 22 games has 4620 passing yards and 1901 rushing yards. Last year, he had about a 66% completion percentage, and this year, about 63%, which is a slight decline. Even then, while he may not be an elite passer, these stats prove that he is an efficient passer.
In terms of film, while some argue that Jackson just takes short, easy passes and check downs to move the ball, that is simply not true. In fact, according to Next Gen Stats, Jackson was the best QB at throwing into tight windows, and it shows on film. Just in the last two weeks versus the Indianapolis Colts and Pittsburgh Steelers, Jackson was putting the ball on a dime. One of many examples was on a 2nd and 22 late in the 3rd quarter versus the Steelers, where Jackson stayed poised and hit Willie Snead down the middle of the field for a big first down to inside the 5 yard line. Even as a deep passer, where many criticize him, he was 27 of 68 for 829 yards and 12 touchdowns last season. This season, he still has 4.2 completed air yards per pass attempt and 8.9 air yards per attempt, ranking 5th in the NFL. Nevertheless, he still has room to improve here, as it was visible versus the Chiefs, where Marquise Brown had his man beat and Jackson underthrew the pass. Jackson has also shown the ability to complete "circus passes" similar to guys like Patrick Mahomes and Russell Wilson. One example this season was him juking mid pass versus the Eagles to hit Nick Boyle for a touchdown sidearmed.
While Jackson can make some very impressive plays as a passer, he still has room for big improvement in multiple areas. One of these areas is throwing outside the numbers, and this was visible in his playoff game versus the Titans, where the Titans forced him to throw outside, and he struggled. Jackson also needs to be able to keep himself in games and to be able to hold his own when his rushing ability is taken away successfully. There has been multiple games this year where Jackson was struggling to move the ball down the field because a team has been successful against his rushing attack, and the defense has his back. But, in games like versus the Chiefs, Jackson will not have that luxury, so he needs to be able to pass the ball down the field for a drive.
However, as mentioned before, it is not him as a passer that makes him the great player he is. His run ability not only makes him the player he is, but it opens up the running game for others in the system. This was visible in games such as against the Steelers, where running backs JK Dobbins and Gus Edwards amassed 202 yards on 33 carries. This has happened on a consistent basis, as the rushing offense averaged 203 yards per game last year, and about 170 yards per game this year. As a result, this rushing offense combined with an efficient passing game has created one of the best scoring offenses in NFL history.
The Ravens scoring offense is one where the Ravens have not scored less than 20 points in a game where Lamar Jackson has started in the regular season, once again proving his efficiency as a passer. Yet, he's scored 17 and 12 points in his playoff games, which leads me to my next point of Jackson's scrutinization and how polar NFL fans act towards the 23 year old. Despite what the media may tell you, Jackson is statistically a winner, being 24-7 in all of his 31 starts, and still being 6-6 against teams above .600/playoff teams. Nevertheless, these stats can be just as deceiving, and the stats I am about to bring up are the reason why NFL fans today believe Lamar Jackson cannot lead his team to win big. The facts on this matter are that despite being 7-6 against teams above .600/playoff teams, he had lost his last three games versus teams over .600/playoff teams before finally beating the Colts 24-10. This creates a recency bias that Jackson cannot win big games, and while he has yet to prove himself this season in a big way, the idea that Jackson cannot win big games is plain wrong.
Another stat that concerns many is Lamar has had 3 of his 7 career losses versus the Chiefs, and 2 of them in the playoffs. Of course, the Chiefs aren't an easy task for any team, but with the talent Baltimore has put together, it would feel like that Jackson would be able to win at least one game versus Mahomes. Even Deshaun Watson was able to slip in a victory versus the Chiefs last year, so there's been a sense in the NFL that the Chiefs essentially "own" the Ravens.
However, how much of this falls on Lamar Jackson? In 2018, Jackson actually led his team to a go-ahead touchdown versus the Chiefs to go up 24-17, but the defense let Mahomes get back into the game and led the Ravens to lose 27-24. In 2019, Jackson had to play his first game without his top target Mark Andrews, and the defense gave up 23 points in the first half, and even then, Jackson nearly came back. But, in 2019, Jackson had less of an excuse, as the defense did take away his running ability and he had a 50% completion percentage.
But Jackson had his worst game versus the Chiefs in 2020, where he threw for a mere 98 yards on 13 for 28 passing, in a game the Ravens lost 34-20. This game cannot be blamed entirely on Jackson though, as Ravens offensive coordinator Greg Roman's play calling was also questionable. On the Ravens opening drive, the run game was gashing Kansas City's defense, as they took a 3-0 lead after a successful first drive. Despite this, after falling down 6-3, Roman began to panic and already started to abandon the run, calling 3 straight pass plays that all led to incompletions on the next drive. This continued throughout the game and was a huge factor in the Ravens' 34-20 loss. While Jackson was also missing passes, his receivers also seem to disappear in big games, with guys like Mark Andrews dropping an open touchdown pass and receivers struggling to get open. As of right now, the Ravens play "scared" against the Chiefs, and that includes Lamar Jackson as well, which needs to change if Lamar wants to overturn his "big game" narrative.
My last point comes about Jackson's struggles in the playoffs. Both games were embarrassing losses and Jackson struggled in both games, even if there were a few bright spots. His first loss is more excusable, however, it lit up the narrative that Jackson would be figured out (which would be debunked next season), as he had negative passing yards going into the 4th quarter, in a game where he had been completely shut down. Even then, Jackson nearly came back, putting together a strong 4th quarter to put the Ravens down 23-17, but the efforts were put away after a game ending fumble by Jackson.
His game versus the Titans, though, was less excusable. While Jackson had pretty stats, throwing for 365 yards and rushing for 143 yards, it was on 79 touches, and many of those stats came when he was already down big. While it was mainly the defense's fault for letting Henry run all over them, Jackson also threw 2 INTs and fumbled once, struggling himself. There is no doubt that this needs to change soon, as if Jackson continues to have playoff failures, it will damage his confidence going back there going forward and build the narrative that he is a "playoff choker." A question that remains to be answered, however, is how much winning in the playoffs will it take to quiet the narrative of Jackson being a choker? As of right now, it feels like even if he wins 1-2 games, he will still be criticized for having a losing record in the playoffs, and he would need to win the Super Bowl for the critics to completely quiet down.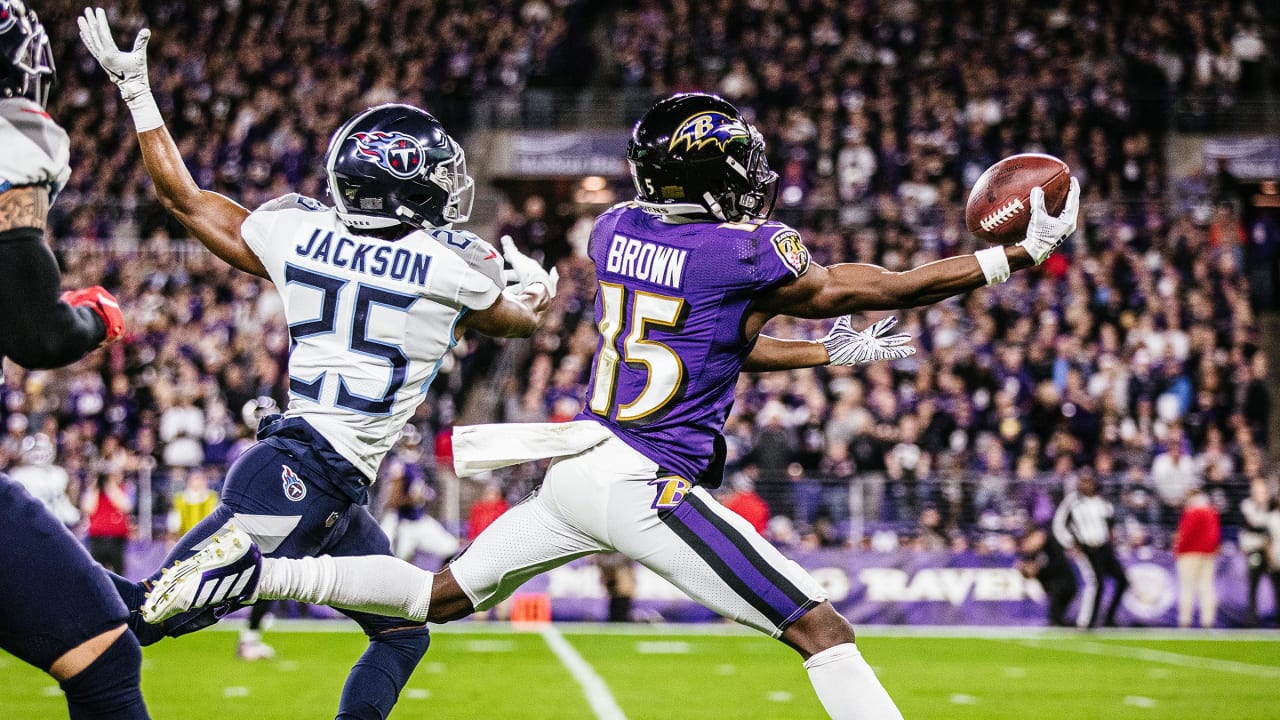 Altogether, while Jackson is not playing like the quarterback he was in his MVP campaign, the amount of criticism he is receiving is too high, and he still deserves to be looked at as a top 5-7 quarterback overall. There is still 8 weeks and potentially the playoffs left for Lamar Jackson to silence the doubters, and he is still a young 23 years old.